Mayor Signs Emergency Proclamation, Urges Preparedness
County of Maui News Release
Maui County Mayor Alan Arakawa signed an emergency proclamation effective 11:00 a.m. Saturday, in anticipation of the arrival of Tropical Cyclone Ignacio. The National Weather Service (NWS) has advised that although Ignacio's track is still uncertain, the system has the potential to cause widespread damage throughout Maui County.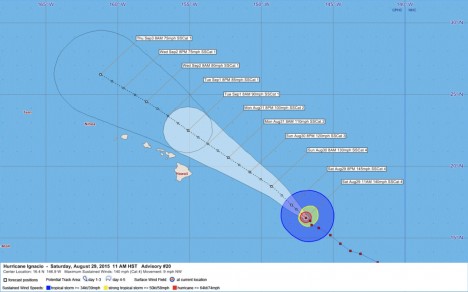 The proclamation recognizes the need for government agencies and representatives from the private sector to mobilize and provide immediate services to our island residents and to mitigate hazardous situations in advance of the weather effects from Tropical Cyclone Ignacio such as sustained tropical storm force winds and the potential for hurricane force winds, heavy rains, potential lightning, flooding, and extremely high surf and storm surge.
"I urge all citizens to prepare their homes, family members and pets for the potential impacts of Ignacio," said Mayor Arakawa. "Now is the time to stock up on seven days of water and non-perishable food supplies, and to secure or move inside any loose objects around your home that could become airborne missiles. Make sure you have on-hand fresh batteries for your radios and flashlights, and keep your vehicles fully fueled."
Mayor Arakawa also encouraged residents to visit the County website for updates and to sign up for Maka`ala, the County's new emergency alert system, at mauicounty.gov. "It's important that we stay safe, and stay connected," he said.
For general preparedness information, visit the Civil Defense webpage at mauicounty.gov/civildefense.