Mawae Takes 2nd at Duke's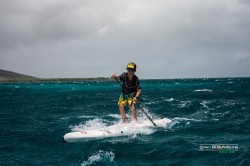 Community Contributed
By Clare Seeger Mawae
Twelve-year-old Alex Mawae from Molokai has had quite the year with the fastest growing water sport of Stand Up Paddling while racking up some credible placings in some notable events. Alex recently competed at the Duke's Ocean Fest on Oahu, taking second place in the under 17s Juniors division with the 2014 Hawaii Paddleboard Championship. The race started at Hawaii Kai and finished at Queens in Waikiki, a distance of just over nine miles.
"Training and getting ready is both fun and hard but doing the race is the most amazing feeling especially when you cross the finish line," said Alex.
With promising trades and a head, plus high south swell, Alex had to make some choices of whether he was to race solo or be chaperoned. He chose to go solo and start 10 minutes ahead of the main fleet of paddlers. Alex had the race of his life experiencing what it was like to be in the lead, while paddling with some of the top paddlers at the front of the pack. The wind was not so bad for Oahu but quite different to the roaring trades that he is used to on Molokai. The south swell was big enough for him to find courage to conquer his fears of surf on a race board as he approached Black Point and rounded Diamond Head.
"This was the most amazing fun race and and I want to do this again," said young Alex. He also wants to encourage other young Molokai paddlers to get out there and race.
"I cannot stop smiling when I know I have worked hard and put in my time. I love the ocean but most of all I have the highest respect for the ocean," said Alex. "I hope more kids on Molokai can get into Stand Up Paddling as the races are so much fun. You have no idea!"