Maunaloa School Gets Hope
Mary Cochran, Molokai's representative on the Hawaii Board of Education (BOE), gave the folks at Maunaloa Elementary School a reason to believe they have a fighting chance. Cochran promised to take a good look at the school's proposed consolidation, adding that she believed there were better places to cut money from the education budget.
The west end school is one of 20 statewide that is on a consolidation list made by the BOE last year in an effort to decrease Hawaii's education budget. Maunaloa is one of four schools currently being evaluated to see if it can be shut down.
"We have to start talking about doing business in a different way," Cochran said. "There are other departments that can be cut without going to the school level."
Cochran was on Molokai last Monday for a routine meeting, but Maunaloa's potential closing quickly became the main topic of discussion. Cochran promised to start investigating the situation before Christmas. The evaluation process goes through a series of reports and recommendations, but ultimately the decision ends up in the laps of Cochran and the 12 other members of the BOE.
The nine-year veteran of the BOE said the board is currently in the process of reviewing all of their programs that cost more than $500,000.
Cochran specifically mentioned the $30 million spent on outside firms like Edison Alliance and America's Choice. The BOE's public affairs officer, Alex Da Silva, said the firms are mostly used to collect data and help schools build a more effective curriculum. Cochran said there has been talk amongst board members to get rid of those service providers within two years.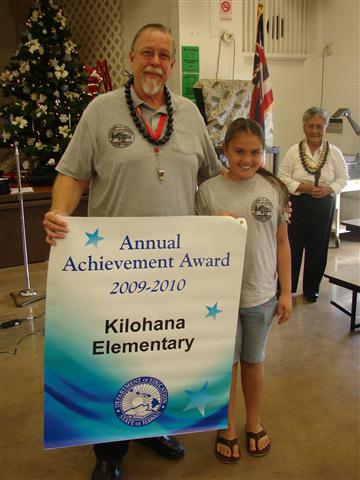 She also mentioned the payroll system – the Department of Education is the only state agency without a computerized system – and the Internet Technology staff as places that should be cut before school programs. The 2009 Department Directory listed 147 employees in its IT branch.
"Who are these people? What the heck do they do?" Cochran said. "There are places within the department that we can really outsource."
Rochelle Borden, an administrative service assistant at Maunaloa School, also suggested that Cochran and the board look at other schools on Oahu for consolidation before Molokai.
"There are places on Oahu with three schools all on the same street, within a mile of each other," Borden said. "If you close one or two of them, you would save way more than the $500,000 you will for closing Maunaloa."
There are three neighborhoods on Oahu with multiple elementary schools on the same street. Enchanted Lake, Keolu and Ka`elepulu schools in the Windward District are all within a one-mile radius of each other and have an enrollment well under their capacity. Those schools are also on the state's consolidation list.
In comparison, Maunaloa students would likely be sent to Kaunakakai Elementary which is 17 miles away. While their enrollment (60) is also well under the state-determined capacity (115), Borden said that number isn't completely accurate.
A school's capacity is determined by the number of classrooms it has. According to the state, Maunaloa has 11 classrooms. However, the kitchen, cafeteria, library, computer lab and a workroom affectionately known as "the dungeon" are all included in that list. None of them are actually used as classrooms, so the school actually fills a much greater percentage of its capacity than the numbers show.
"I just fell like we are being treated more as a business than an educational institute. That's the message that our kids are getting," Borden said.
Other community members added their own ideas about how to make Maunaloa more financially sound including adult classes, preschool classes, and using empty rooms as DOE office space.
The next task force meeting regarding Maunaloa consolidation will be held on Jan. 26 at the school's cafeteria.