Math Day Rocks
Community Contributed
By Linda Venenciano, Kelli Ching, Monique Chyba & Joshua Kaakua
There was no warning of an impending natural disaster on March 6, but something extraordinary was underway. A team of 28 University of Hawai'i mathematics, engineering, and science students and faculty led approximately 70 keiki and their grown-up in hands-on activities, inspiring them to pursue STEM (science-technology-engineering-mathematics). Ten different 30-minute activities were created—"Airplanes and Brains" had kids craft superior paper airplanes; tangram puzzles encouraged kids to use geometric skills to solve problems; Lego robotics led kids in building and programming robots; and a favorite among the younger ones was the building of 3-D structures using candies and toothpicks.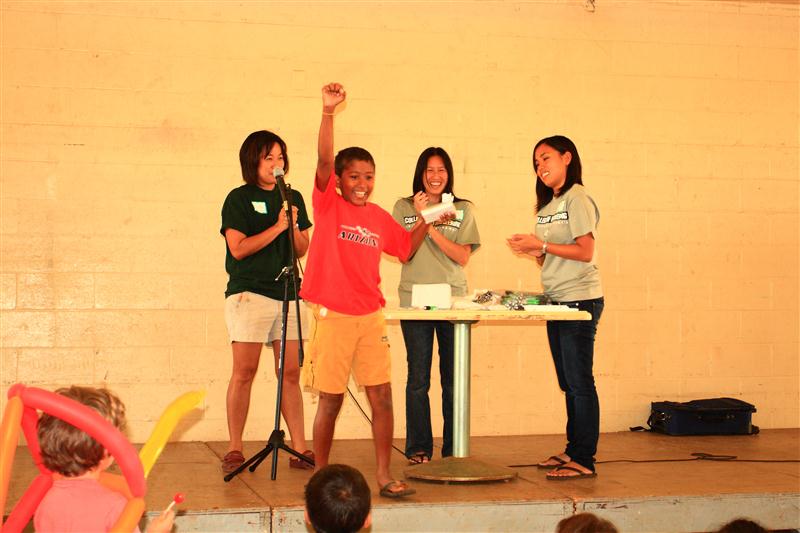 This event was inspired by mathematics Professor Monique Chyba, the Principal Investigator on a project funded by the National Science Foundation, School and University Partnership for Educational Renewal in Mathematics (SUPER-M). Molokai Math Day was conceived of through the collaborative efforts of Dr. Chyba, Linda Venenciano (SUPER-M manager and spouse of MHS alum Billy Venenciano, c/o '89), and Josh Ka'akua and Kelli Ching of the Native Hawaiian Science & Engineering Mentorship Program (NHSEMP). In addition to engaging kids in STEM activities, this event intended to mentor Moloka'i's next generation of STEM college students. With the assistance of MHS's Mr. Johnathan Smith and Mrs. Lisa Takata, high school students were recruited to work with the SUPER-M fellows and NHSEMP students in running the activities and encouraging the children.
Attendees of the event had comments like, "We should have more activities and make it longer," "It lets me use my strengths I never got to use," "It was good and fun to us," "Math Day Rocks," and "I hope we have another math day!"
There was one suggestion for a STEM competition between the Moloka'i students and the college students. Look out UH Rainbows, the Farmers are calling you out!
The organizers of the event initiated plans to continue STEM mentoring on Moloka'i. The NSF-funded SUPER-M project will provide a fellowship to a mathematics graduate student as she brings modern mathematics research to Moloka'i schools. This is scheduled to begin in the 2010-11 school year. For more information about SUPER-M see http://www2.math.hawaii.edu/superm.
Another effort to promote STEM mentoring is being led by the NHSEMP. The program aims to encourage more students from Native Hawaiian communities to pursue careers in science, technology, engineering, and math. NHSEMP is exploring the possibility of returning to build computers with Moloka'i students. NHSEMP was also responsible for the generous iTouch, iPod, and iShuffle raffle prize donations. For more information see http://nhsemp.eng.hawaii.edu/.
Support for this event came from the UH Student Equity, Excellence, and Diversity Office but this would not have happened without additional support from various entities on Moloka'i. The organizers would like to extend a huge MAHALO NUI LOA to the folks who helped make this event a success through their enthusiasm, tireless efforts, and generous contributions: The Venenciano Ohana and Lisa Takata and Ohana for hosting the group; Moana Dudoit, Raquel Dudoit and the Dudoit bus service and sound system; Shannon (U'i) Lima, the Gear-Up Project, Kelly Dudoit, Tanya Mendija for funding the dinner-meeting; Rachel Adshire, Keala Hula and Ana Madela for preparing us the dinner, running the sign-in table and many, many other details; MHS Principal Denise Kelly, Mr. Johnathan Smith, Mrs. Malia Lee and the MHS student volunteers; Joshy (Boy) Pastrana for hosting NHSEMP in Halawa valley, Kimberly Svetin for her incredible PR efforts; the County of Maui, Moloka'i Parks and Recreation Department for their support; Dan Emhof for the public service announcement, MEO-Molokai for their assistance; and the schools, teachers, and community for encouraging students to attend the event.
The aloha spirit that defines the Friendly Isle resonated throughout and was awesome to experience. It was the first time experiencing Moloka'i for most and it will certainly be a long cherished memory for all. It was an honor to be received so warmly by the community.