Marie Mariye Yamashita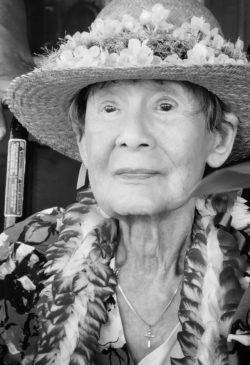 Marie Mariye Yamashita, 102, of Kaunakakai, passed peacefully with family on the morning of March 30, 2023. She was born on Nov. 5, 1920 to Mariano Araullo and Kikuye Tanemura.
Marie is survived by her son Bruce Yamashita; and grandchildren Lisa, Lori, Jon, Winston, Nelson, Todd, Matt and Tami.
Marie was born and raised in Waikiki where her mother immigrated to from Kumamoto, Japan in 1918. After graduating from University of Hawaii at Manoa, she moved to Kilohana, Molokai in 1943. She met and married Henry Yamashita in 1944 and welcomed his two sons Raymond and Kenji. Marie and Henry welcomed their son Bruce, born in 1947.
Marie would go on to get her masters in library technology and become the librarian at Molokai High School. She was instrumental in the planning and development of the current library at MHS. She was close to her faith and loyal to Kalaiakamanu Hou Church and its followers. She was the historian for the church's 100th and 150th anniversaries. As an educator, Marie inspired confidence and excellence in each of her students. She was an avid supporter of her family and community, and a woman of dignity and integrity throughout her life.
Memorial services will be held on Saturday, May 6, 2023 from 9 a.m. to noon at Kalaiakamanu Hou Church, Kalamaula.