Mama Mia
Former Top Chef contestant makes Molokai home.
She ran her own successful restaurant. She starred on Bravo TV's Top Chef reality cooking show. And six year ago, she came "home" to Molokai to share her talents.
Chef Mia Gaines-Alt's home-style cooking has taken her a long way. While her passion for the culinary arts continues to grow, she says her journey is over – she's on the Friendly Isle to stay.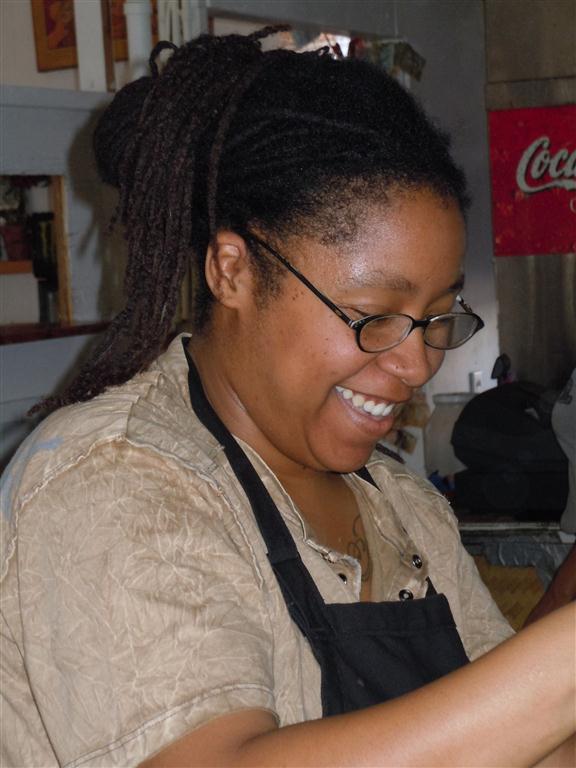 "Soul food – that's my thing," she said.

"Reality" TV
Her cowboy hat and down-to-earth personality – and of course her skills in the kitchen – landed Gaines-Alt a spot on Season 2 of Top Chef in 2006. Her Bravo bio describes her as "whipping up some of the best comfort food this side of the Mississippi."
It was her mother that got her on the show, she said, encouraging her to attend the open casting. Gaines-Alt said she had just catered a large event and showed up late for the interviews, covered in dirt and food, with a dusty cowboy hat on her head. She was surprised when she got a call back saying she had been selected for the show, which aired October 2006 to January 2007.
But despite the glamorous-sounding experience, the California native said being on the show is far from what it seems.
"It's not like you just jump in your chef suit and cook," she said. "You're locked in a condo with 14 strangers."
The 15 contestants weren't allowed to read magazines, talk to family or watch TV for the three months during filming to ensure they had no access to recipes or outside cooking ideas.
"We couldn't even go outside without a chaperone," she remembered. "For fun, we'd bowl watermelons in the house" because that was all there was to do.
Long days on set while shooting the scenes – often 18 hours at a time – ironically left the chefs starving. "We had no time to cook for ourselves," she explained. While they were there for a cooking challenge, "just getting ourselves up in the morning was the challenge."
As for being on "reality TV," Gaines-Alt said it's far from reality. The producers wanted drama. Most of the contestants, however, became good friends over the course of the show. But they were told, "'you guys are being too nice to each other.'"
Despite the controversies, she said she was in it to have fun and maintain her integrity. And it was that integrity that drove her to withdraw during the eighth of 13 episodes. When she thought a more deserving chef was going to be eliminated by the judges, she voluntarily eliminated herself to keep her fellow contestant in the running.
While Gaines-Alt didn't come out of the show on top or with any money to show for her efforts ("nobody gets a dime from the show except the winner"), Top Chef did lead her to Hawaii.
Coming "Home"
The final episode of Season 2 was shot in Kona, and Gaines-Alt was called back to participate. She said she spent most of her time cruising with the locals and making friends.
"Hawaii is where I need to be," she thought.
When she found an opening for a chef at Hotel Molokai on a job board, she didn't hesitate. With her mother, husband and three daughters in tow, she made the move to Molokai six years ago.
"Hotel wasn't for me but it brought me home," she said.
Gaines-Alt then worked as a chef at Paddlers Inn before settling down at Kualapu`u Cookhouse last October.
"We appreciate her creativity and her ability to work under pressure," said Tina Price, owner of Cookhouse.
"I love it there," Gaines-Alt added, describing the restaurant as a family.
Country Roots
Gaines-Alt's restaurant and catering business in Oakdale, Calif., called Feed the People ("because that's what we did!"), was the first black-owned business in the town in 100 years, according to Gaines-Alt's mother, Wanda Ingram.
In Oakdale, known as the cowboy capital of the world, Feed the People's barbeque comfort food was a big hit. Customers liked the business so much they'd sometimes help out after their meal.
"It was not uncommon to see a customer buss their own table then come back to the kitchen to wash their dishes," said Gaines-Alt.
On Molokai, the chef dreams of one day opening her own restaurant again. In the meantime, she working on compiling a cookbook, featuring her own recipes as well as highlighting local dishes and those cooked on other Polynesian islands.
"These are recipes that have been passed down generation to generation," she said.
Gaines-Alt wants to create more than just a book of cooking instructions – she also hopes to gather the stories of what makes the recipes special to those who cook them. Her home-style dishes celebrate her own heritage, and she hopes to do the same for the culinary legacy of Molokai ohana.