Making Waves
Molokai surfer takes on the pros.
Big waves don't scare Molokai's Taoa Pou. Neither, apparently, does big competition.
The envy of many young surfers, 13-year-old Taoa was granted wildcard entry into last week's Sponsor Me Hawaii pro surf competition at Ala Moana Bowls on Oahu.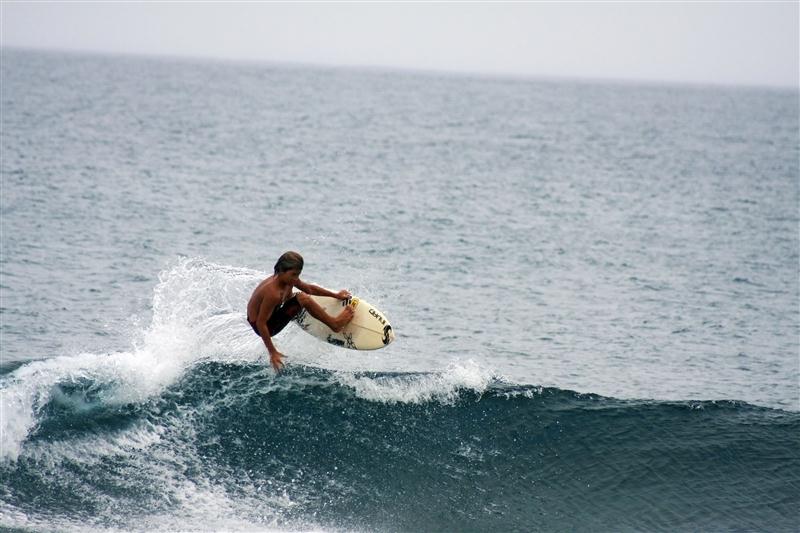 Competing alongside some of the state's top surfers, Taoa held nothing back, even attempting the coveted reverse air-360. "There was no pressure on me — I had nothing to lose," he said. "There was more pressure on the professionals 'cause they didn't want to lose to a 13-year-old kid."
Sponsor Me is meant to give lesser-known surfers access to international ratings and valuable media exposure. Still, many of the competitors were established names with decades of experience surfing over Taoa, who was given one of only two wildcard entries for amateurs, sponsored by the Association for Surfing Professionals (ASP).
ASP also set up Taoa to receive coaching throughout the day from pros Sunny Garcia, Myles Padaca, Makuakai Rothman and Pancho Sullivan, though he had some trouble concentrating on their instructions. "I was more in awe of them," he said.
Taoa finished fourth in his second round heat – an impressive showing for the event's youngest competitor – but as his own biggest critic, he said he's not completely satisfied. "I could have done better — I could have beaten some of those guys."
Still, Taoa said the experience will motivate him to enter more competitions and take his surfing to the next level.
The Right Attitude
Taoa was recruited for Sponsor Me by Jodi Wilmott, a publicist with ASP who helped organize the event, after she saw him last month at the state championships, where Taoa competed in the 12-13 year-old division.
Impressed with his "vibe," Wilmott invited Taoa to Sponsor Me to "get a good taste of what pro surfing is about," she said.
With the average age of competitors between 23 and 24, Taoa was by far the youngest, but Wilmott said he handled the pressure like a veteran.
"I've been working in the professional surfing world for 20 years and I was so impressed," Wilmott said, calling Taoa "a very mature 13."
Taoa is already sponsored by Tango Surf Boards and the Tahitian clothing company Imvad. Taoa's dad Teva Pou said after last week's exposure, more sponsorships could be in the works.
"He definitely has the talent to make a career out of it," Pou said. But for now, he added, Taoa is simply enjoying the moment. "His goal, regardless of winning or loosing, is to keep his heart humble."
A Head Start
Taoa's love of surfing started at a young age. "When he was little, he would watch surf videos with me more than cartoons," Pou said.
At age three, Taoa began surfing beginners' break at Waialua and a few years later had moved onto to the waves at Rock Point on the east end.
Earlier this month, the Pou family moved from Kalamaula on Molokai to the North Shore of Oahu. Even after surfing big waves there, Rock Point remains one of Taoa's favorite surf spot.
"I feel really comfortable there," he said. "I miss it already."