Making of a Nation
Molokai discusses Akaka bill.
Jade Leialoha Danner has cared for her hanai son since his birth – changing diapers and helping with his homework. But under U.S. law, she has to get written permission from his birth parents – her brother and sister-in-law – to prove she is capable of his guardianship, even when signing him up for baseball. Danner, vice president of the Council for Native Hawaiian Advancement (CNHA), wants to change this complicated system and have a Native Hawaiian government, with laws focused on Native Hawaiian values.
After 10 years of standstills, vetoing and nay-saying, the Native Hawaiian Government Reorganization Act of 2009, informally known as the Akaka Bill, is continuing to move forward in its best version yet, Danner said.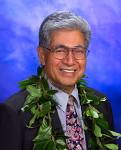 >
<![endif]--> <!– /* Style Definitions */ p.MsoNormal, li.MsoNormal, div.MsoNormal {mso-style-parent:""; margin:0in; margin-bottom:.0001pt; mso-pagination:widow-orphan; font-size:12.0pt; font-family:"Times New Roman"; mso-fareast-font-family:"Times New Roman";} @page Section1 {size:8.5in 11.0in; margin:1.0in 1.25in 1.0in 1.25in; mso-header-margin:.5in; mso-footer-margin:.5in; mso-paper-source:0;} div.Section1 {page:Section1;} –>
What Can You Do?
If you want to express support or say mahalo for their work, call or write to Hawaii's representatives in Congress and Governor Lingle and let them know who is behind them.
Rep. Neil Abercrombie (1st District): (808) 541-2570
Rep. Mazie Hirono (2nd District): (808) 541-1986
Sen. Daniel Inouye (D-HI): (808) 541-2542
Sen. Daniel Akaka (D-HI): (808) 522-8970
Gov. Linda Lingle: (808) 586-0221 or (808) 586-0222