Makalei…Pehea Ka Lawai'a
CD Product of Stew Kawakami and Mike Judd
Community Contributed
CD Review by Lonomusic
Hawaiian music is just one of the many talents these two possess. Stew assisted the group O Wai La with their debut CD project. Mike is a renowned paddler – there, that should garner a Hoku award – however, music is our course. These fine gentlemen have surrounded themselves with a crew of many talents, besides their own. Stew on guitar, ukulele and vocals, while Mike is on upright bass and vocals. Their clarity of Hawaiian words is superb. The flow of their music scans most of the Hawaiian spectrum. Contemporary, big band and easy listening categories. This backyard style, we at Lonomusic admire. They seem to have been friends for a while, as their vocals and harmonies are pili pa'a, very tight. They have a good-time feel about their sound.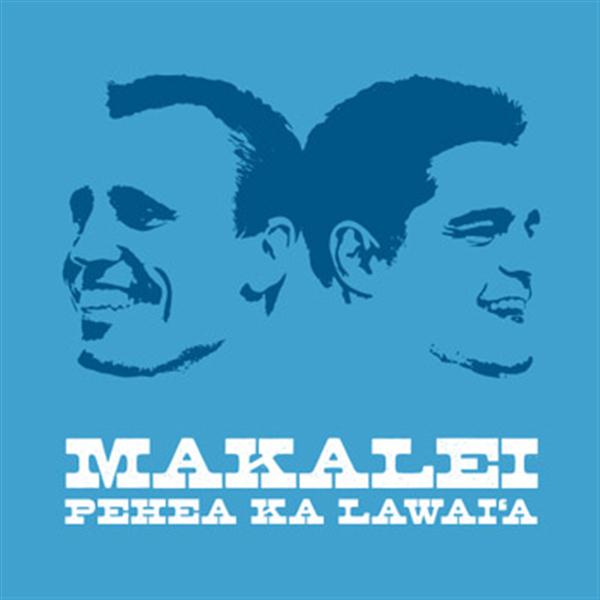 This three-fold digi-pak CD is light blue with silhousettes of their happy faces, liner notes by Kainani Kahaunaele, a list of musicians and thank you's. Hopefully the lyrics and translations can be found at www.makaleimusic.com. This CD is available in the display counter at Molokai Drugs.
Several outstanding tracks are: Ka Paniolo Nui O Moloka'I, Moloka'I Nui A Hina, Ka Lei Punahou, Silver Sword, Lei Aloha Lei Makamae. Thirteen tracks total, this is a good presentation of their works. "Oceans Away" is jam packed with modulations and smooth jazzy grooves. The original "Lifetimes Too Short" is a long thought-out song. The strings that accompany several tracks are well done in its dreamy feel. There is a nice somewhat kiho'alu (slack key) style in "Pu'uanahulu/Keawaiki". The vocals top it all off with a guitar solo. The last track, titled "The Wonderful World of Aloha" is reminiscent of the old Aloha Airlines. It still captures that feeling of flying inter-isle, though it is nostalgic and deeply sad the way Pacific Wings has decided to cash in on the people of Molokai and the patients of Kalaupapa. We are so glad these gentlemen brought this mele back. It, at one time, was the hit song of many hotel lu'au. Its melody captivated malihini and kama'aina alike. Being an introduction to love and warmth of our favorite word, known the world over, "ALOHA".
We hope the Na Hoku Hanohano awards shine God's great light on Pehea Ka Lawai'a and Makalei.
Aloha to Aunty Louise Bush. She will be greatly missed. Until next time, Ke Akua Pu A Hui Hou Kakou,
Lonomusic