Mahina Poepoe Running for State House D-13
Mahina Poepoe Candidate News Release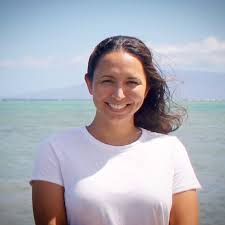 Aloha e Molokai! For those who may not know me, my name is Mahina Poepoe. I am the only Molokai candidate in the race for the State House of Representatives, District 13. I was born, raised, and lived my entire life on Molokai. I am a descendant of Native Hawaiian family ancestry from Puko'o, Mana'e.
My mom is Puanani Goodhue from Puko'o, Molokai. My dad is Doug Lopes from Waianae, Oahu.
On my mom's side, my grandma is Anna Duvauchelle from Puko'o, and my grandpa is John Goodhue from Mapulehu, Molokai.
My husband is La'a Poepoe, son of Kamalu and Mac Poepoe.
I am a diligent and committed community advocate on issues that have resulted in positive change. I was a leader in the effort to ban short term vacation rental homes on Molokai, to stop the proliferation of transient tourists in our rural neighborhoods and reduce the loss of housing to foreign speculation. I was a leader in the effort to relocate the Puko'o fire station out of the flood zone. After dedicating three years to this effort, I was able to locate and work with the County to secure a property in 'Ualapue that is expected to cost substantially less than originally anticipated, potentially saving the county and taxpayers millions of dollars. I have experience engaging at all levels of government to protect our rural lifestyle, our natural resources, and the environment from degradation and harm.
I have a bachelor's degree in public administration and a background in small business and environmental conservation. I owned and operated Malama Surf Shop in Kaunakakai town until closing in 2019. I currently work in the field of conservation as a project coordinator for 'Aina Momona, as an outreach assistant for the Molokai Maui Invasive Species Committee, and I was previously a legislative analyst with the County of Maui.
When I am not attending community meetings or participating in volunteer activities, I can usually be found tending to my native plant nursery or working at the fishpond.
I am humbly asking for your vote.
For more information on my platform or to get in touch please visit my website, votemahina.com