Mahalo for Soup 'R Bowl Support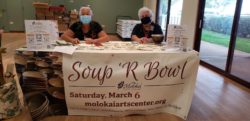 The Molokai Arts Center held its 11th annual Soup 'R Bowl on March 6. Themed "Reimagined," the fundraiser event featured 492 soup bowls and mugs created by Molokai artists. MAC reimagined the usual sunset under the banyan tree dinner fundraiser and created a COVID-compliant walk-through, take-out experience that was enjoyed by all.
Mahalo Molokai for supporting Molokai's only nonprofit arts education program. Special thanks to Lanikeha Community Center, Rosie Davis, Molokai Homestead Farmers Alliance, Take's Variety Store (Garrick Kanemitsu, Clyde Len Wai, Frank Maniago, Aiko and Kimmy Kanemitsu), and Halawa Tropical Flower Farm (Kalani and Joanie Pruet) for your in-kind donations.
We are grateful for the many hands and hearts that graciously gave of their time and talent to make this innovative event possible: Joyce Haase (Board President), Judy Mertens (Board Member), Paula Scott (Board Secretary), Braeden Cabael-Kaahanui, Ciera-Lee Davis, JR and Kanoelani Dudoit, Elizabeth Johnson, Charles Kaahanui, III, Malia Keanini, Iokepa Kuoha, Kamaehu Kuoha, Kapena Maddela, Misty Mollena, Naupaka Olaitiman, Jr. and Lovelyn Pa'a, Kaiulani Pa'a, Judith Palmeri, Ka'ululani Pua'a, and co-chairs Alice Ka'ahanui (ED) and Iolani Kuoha (Board Vice-President).
Kudos to our talented bowl makers and member artists Kalani Aquino, Dan Bennett (Board Treasurer), Marshelle Castro, Ames Chow, Debbie Delatour, Maricel Kanemitsu, Amber Keoho, Vashti Lima, Lil Macmillan, April Maddela, Kim Markham, Eva Naumu, Emília Noordhoek, Isaiah Sahagun, Steve Turkelson, Lisa Welcher, Betty West (Board Member), Madison Zeller. The bowls are more stunning every year as artists hone their craftsmanship.
Handcrafted bowls and other gift ideas are available at the MAC throughout the year. Email molokaiartscenter@gmail.com for an appointment. The MAC will also be at Grace Market in Ho'olehua on Saturday, April 3.
Molokai Arts Center