Lucy Leonilda Kealoha Whiting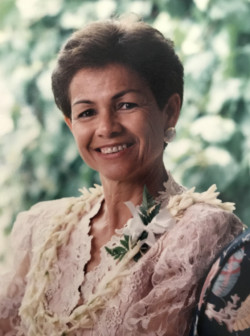 Age 83, Lucy Leonilda Kealoha Whiting passed away on Sept. 12, in Arvada, Colorado. Born May 18, 1940, Lucy attended Roosevelt High School, Class of 1958. She was employed by the National Park Service in Kalaupapa on Molokai. After 20 years she retired and moved "topside" with her late husband Albert Pu where they had a Hawaiian Home Lands lot. After many weeks of clearing the land by hand, they built a beautiful home with stunning panoramic views of the west side of Molokai. They were very proud of that home.

She is survived by her sister Bernice Blalock, daughters Nadine Benton (Randy), Wendy White (Larry), Harrilyn-Lena Hindle (Mark) and son Harry Galdeira, Jr. Her grandchildren are Edward Arasato, Dylan White, Emily King (Cullen), Bradley Benton, Malia Hindle and Keani Hindle.
Come celebrate with family and friends on Oct. 10, at Hawaiian Memorial Park, 45-425 Kamehameha Hwy, Kaneohe. Viewing will begin at 8:30 a.m. in the Glass Chapel with service and burial to follow.