For Love of a Seal
KP2 gets blessing before heading to surgery.
Despite disagreeing on the right future for KP2, members of the National Oceanic Atmospheric Administration (NOAA) and the Molokai community came together to bless the friendly seal from the Friendly Isle at Waikiki Aquarium. KP2 will be flown to California this week for cataract surgery, where he will remain for a year of rehabilitation.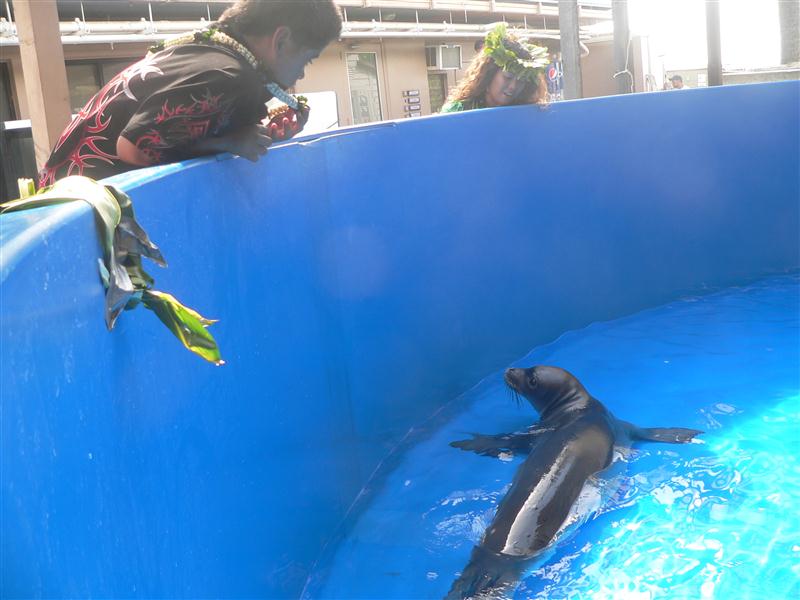 how to approach saving this species from becoming extinct, but we're working together."
KP2, who had formerly made Kaunakakai wharf his home, was taken from Molokai waters by NOAA on Oct. 16 after his growing size and love for human interaction caused safety concerns. He was taken to Waikiki Aquarium temporarily for a medical exam before a planned release in the waters surrounded Ni`ihau, where specialists hoped he would interact with other seals and "stay wild."
But veterinarians discovered he is 80 percent blind due to cataracts and cancelled the plan to release him in the wild. Some Molokai residents, such as Ritte, did not agree that NOAA should take the seal. Within weeks of KP2's departure, Ritte and other Molokai residents traveled to Honolulu to protest the seal's removal, which they said occurred with little notice to the community.
Seal's Ceremony
Ritte and nine other Molokai residents traveled to the Waikiki Aquarium on Nov. 18 to bless KP2 at a more peaceful gathering. Molokai residents have re-named the seal Ho`ailono, meaning a special sign after prayer.
The blessing, led by Reverend David Ka`upu, took place in front KP2's tank. Molokai resident Kanoe Davis began the ceremony with an aloha chant to bless the seals on behalf of Molokai, and to wish KP2 a safe journey to California for his surgery.
Davis cracked open a coconut from Kaunakakai Wharf, and its water was sprinkled during the ceremony. Molokai resident and blessing attendee Loretta Ritte explained the coconut water represented the water of life. When Rev. Ka`upu began chanting, KP2 barked in response.
"The ceremony was really powerful. And beautiful," Loretta Ritte said.
Two maile lei were ceremoniously untied by one of KP2's friends from the Kaunakakai Wharf, Kalaekahi Poaha. Kalaekahi is an 11-year old Molokai resident who spent last summer swimming with the seal. Attendees said KP2 had been floating in his tank until Poaha approached, when he swam up and started splashing around.
"A lot of tears were being shed" at that point, Walter Ritte said.
What's Next
David Schofield, NOAA marine mammal response coordinator, said after the surgery KP2's lenses would not be fully flexible and his eyes could potentially implode if the seal dove to deep.
"It would be irresponsible [to release him] since we don't know how his eyes will readjust," Schofield said.
Right now, KP2 has been spending his time learning how to communicate using hand signals, and impressing his handlers.
"He's a little sponge," Schofield said.
NOAA hopes to return KP2 to Hawaii after his year of rehabilitation, and is talking with aquariums around Hawaii to add on to existing structures to create a monk seal sanctuary. Schofield said Waikiki is currently at monk seal capacity, and Molokai lacks the infrastructure and funding to build a monk seal sanctuary.
Other volunteers would still prefer him returned to Molokai somehow.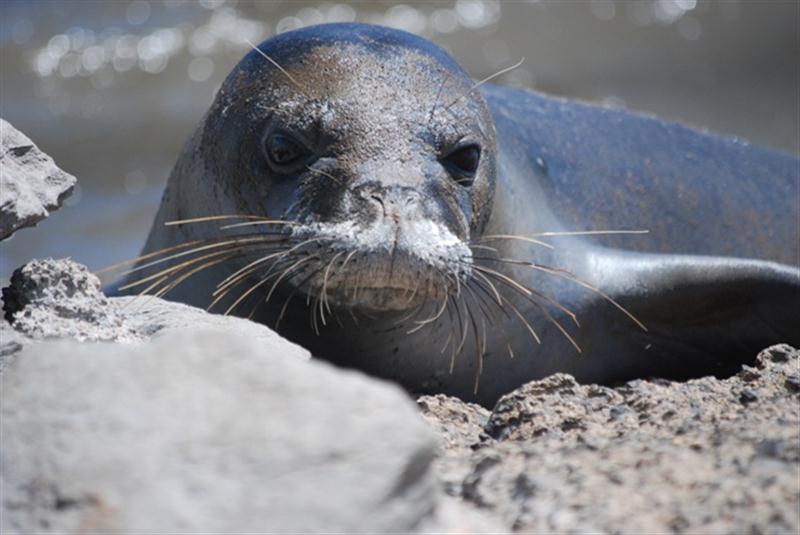 "We've made it clear we want [KP2] back on Molokai. It's not even clear that [he] will come back to Hawaii," Ritte said.
A group of NOAA-trained volunteers, led by Julie Lopez, has emphasized the importance of monk seal education, like Ritte, for all Molokai residents.
"Hopefully with this blessing everybody will be educated on monk seals, and know they belong here," Lopez said.

KP2 in a Nutshell
March 2008 – KP2 is abandoned by his mother on the North Shore of Kauai under 24-hours old.
May 2008 – KP2 is taken into captivity by NOAA more than a month after his abandonment, where he gains weight and a playful demeanor.
November 2008 – KP2 is released into the waters of Kalaupapa, Molokai.
Jan/Feb 2009 – KP2 began frequenting the Kaunakakai Wharf on Molokai's south side. June 2009 – NOAA attempted to place him back at Kalaupapa. Two days later, he was back at the wharf.
October 2009 – NOAA airlifted him to Waikiki Aquarium in Honolulu for medical tests, planning to re-release him on Kauai.
Later October 2009 – Vets discovered KP2 was actually 80 percent blind due to cataracts. For survival, surgery was his only option, and it was decided KP2 would stay in captivity.
November 2009 – During the last week of November, KP2 will be flown to the University of California Santa Cruz for cataract surgery.