Love to Learn
21st Century grant extends education beyond the classroom.
The joy of learning was in the air as both keiki and adults showcased the talents they developed over the past semester. The 21st Century Ho`ike, or exhibit, filled the Kaunakakai School campus inside and out two weeks ago.
Programs ranged from robotics to martial arts to quilt making. Joshua Adachi, Molokai Activities Coordinator for the 21st Century grant program, said the program is flourishing.
"[It's] a really huge success," he said. "Not just in the number of people, but I look into recipients' eyes – they're happy."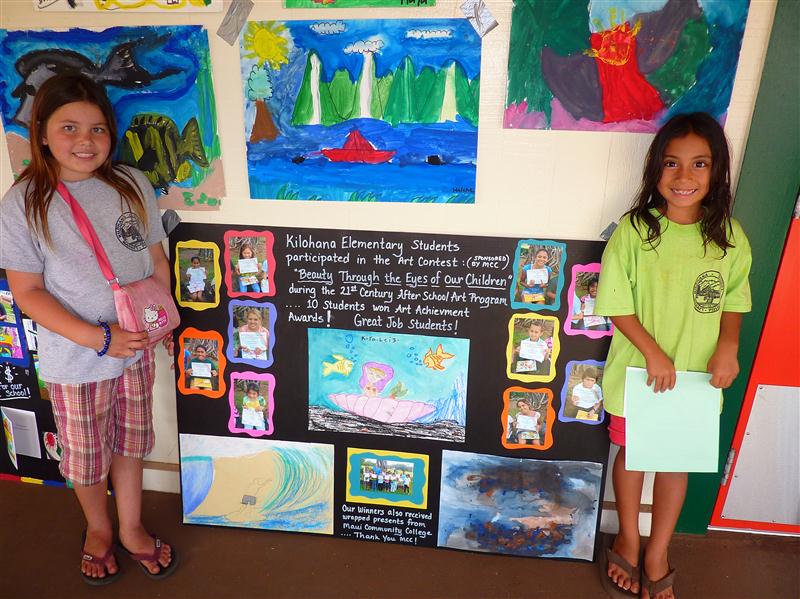 The island-wide, educational afterschool program provides a five year grant to hire teachers from the community as well as purchase supplies. The Ho`ike was the culmination of the grant's second year. Schools from Maunaloa to Kilohana participated, showing off the fruits of their learning.
The colorful products of a Saturday quilting class decorated Kaunakakai School cafeteria. Girls from a ukulele class demonstrated a few of the strumming patterns, exercises and songs they had learned. A Tahitian dance class featured a performance of more than three dozen keiki and adults.
Robotics has always been a popular class, but this semester was the beginning of a new program – Junior Robotics. Students Kindergarten through third grade computer programmed, designed and built their own robots to complete assigned tasks. Coach Jennifer Whitted said she was amazed by the kids' ability to program a robot to place an egg in a track that would route it to a specific destination.
"I couldn't believe it – to see the excitement on their faces when they got the egg in," she said.
Whitted said the program proved that if you give kids an opportunity to challenge themselves and try something new, they will usually reach far beyond what teachers believe they are capable of.
Kilohana School students who participated in a 21st Century art program entered an art contest and 10 students won art achievement awards. Carlie, one contest winner, was excited about her accomplishments. She used the words "fun" and "happy" to describe her experience in the program.