For Love of the Game
Molokai takes 8-man football to Maui.
For the first time in nearly 50 years, Molokai High School athletes stepped out on the gridiron in T-shirts and cleats to play a sport once lost and now restored – football.
A team of 19 guys traveled to Maui last weekend to compete with Seabury Hall and St. Anthony in a "Jamboree" scrimmage as part of an eight-man football undertaking.
The boys played three rounds in 20-minute rotations, essentially playing each team three times. Players wore no helmets or padding, and were therefore held to one-hand touch.
Molokai "handily" defeated Seabury in all three games, with the defense not allowing the Spartans to score a single touchdown. At Kulamalu Pop Warner Field, Molokai quarterback Jordan Kamalii led a fierce offense, uniting with Jordan Gorospe and Raymond Lightfoot-Lani on several touchdowns.
"They dominated," said Head Coach Mike Kahale. "I was extremely proud of how the boys played."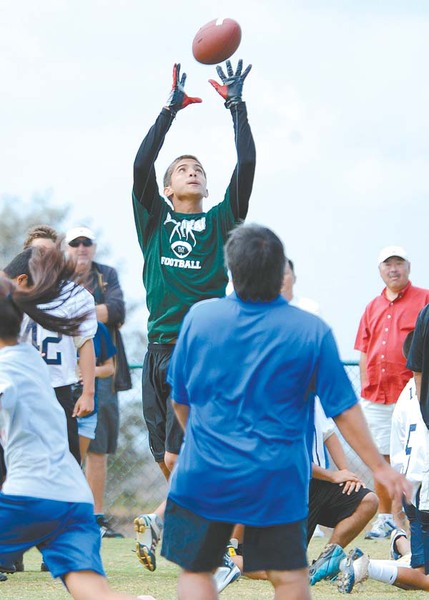 challenging opponent," Kahale added.
In their third game, Molokai players redeemed themselves in a 22-6 upset over the Trojans. Kahale highlighted the athleticism of Hauoli Falealii, who caught four touchdown passes throughout the day.
"Overall it was a very successful day," Kahale said. "The boys felt good about their performance."
A second scrimmage is set for Oct. 23 on Maui against the same two teams, which so far will be one-hand touch rules. On Oct. 30, Molokai will host its first exhibition game against St. Anthony, to be played in full pads.
Mahalo Molokai Football Supporters

It was history in the making as our boys hit the football field for the first time in over 50 years. Our first games against Seabury Hall and St. Anthony were a success!
First and foremost I'd like to thank the athletes. You persevered with this new football program even in the midst of criticism and skepticism. Thanks for sticking it out! Wiwo`ole, Kupono, Lokahi! Also, thank you parents for encouraging your child to think long-term and stick with the vision.
Mahalo coaches Hanohano Naehu, Kaleo Pua`a and David Lima for your investment into the lives of our players.
Thank you Molokai community for buying Krispy Kreme doughnuts. This helped us travel to our first game. Sorry for the delay in delivery – we wanted to make sure you received the freshest doughnuts possible. Mahalo to the Molokai Princess crew for transporting the doughnuts.
To QLCC, Molokai Drugs, Kamoi Snack-N-Go and individual donors – a big mahalo for helping us get some new football helmets. To Al Paschoal, St. Anthony A.D., your support helped us get on the fast track so that our boys can practice/play in full pads this year.

We are still looking for financial support and investors in our football program. We are in need of monies for travel, suiting our players and a storage container to house all of our equipment. Please feel free to contact me at Molokai Farmers Football Fund, P.O. Box 254, Kualapu`u, HI 96757; by phone at 658-0834; or e-mail mikekahale@yahoo.com.

Coach Mike Kahale