Lono's Newest Album
Community Contributed
By Aunty Hanai Makuahine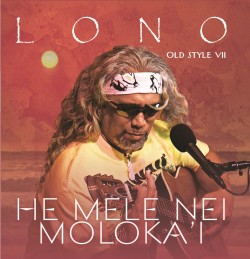 Lono has done it again!  In this new CD, "He Mele Nei," the seventh in his Old Style series, Lono continues his journey along the path of preserving Hawaii's traditional music, and once again we are blessed to travel that path with him.  The reverence and passion that master musician Lono has for his music clearly comes through.  As we accompany him while listening to Old Style VII, we are totally transfixed by his latest gift to us.
Lono is a dedicated artist — dedicated to his music, to maintaining the Hawaiian way, to showing respect and aloha for the kupuna who have greatly influenced his life and his music, and to preserving both vocally and instrumentally the Hawaiian heritage of aumakua and legends and stories of Hawaiian culture.  His aloha for the kupuna is especially evident in the song, "He Mele Mo`omana`o."
Lono's inspiration for his Old Style series comes from his roots in Hawaiian  music.  From his mother gathering the keiki to listen to music and sing the songs, through his growing up years on Molokai, Lono was listening to and absorbing the music of the Hawaiian greats who came before him. Through his love and passion for all things Hawaiian, he is now transforming their messages into contemporary renditions of the traditional music.  Kindy Sproat, for example, inspired the music of "Pulupe Nei Ili I Ke Anu" and of "Olu O Pu'ulani" heard on this CD.
It is no surprise with Lono's amazing talent and versatility that his music provides a remarkable range, based on his exceptional voice as well as his incredible instrumentals. The vastness of Molokai's music — and Lono's music — is a most beautiful expression of the human spirit.  The magic he works with his fingers as he shares his musical gifts with us, is to be forever treasured.  The instrumentals of "Ode To Jake," "E Ho`i Mai" and "Aloha Kakou" show us not only Lono's dexterity in playing, but also his heartfelt energy.
Mahalo Lono, this music, truly coming from your heart, is an inspiration for all. Everyone should have this CD — all who appreciate Hawaiian music and Hawaiian culture must have it, locals and malihini alike.  All of Lono's CDs have been recorded, mixed and mastered, and produced by Lono here on island as an authentic Molokai product.