Lono's Latest Inspirational Listening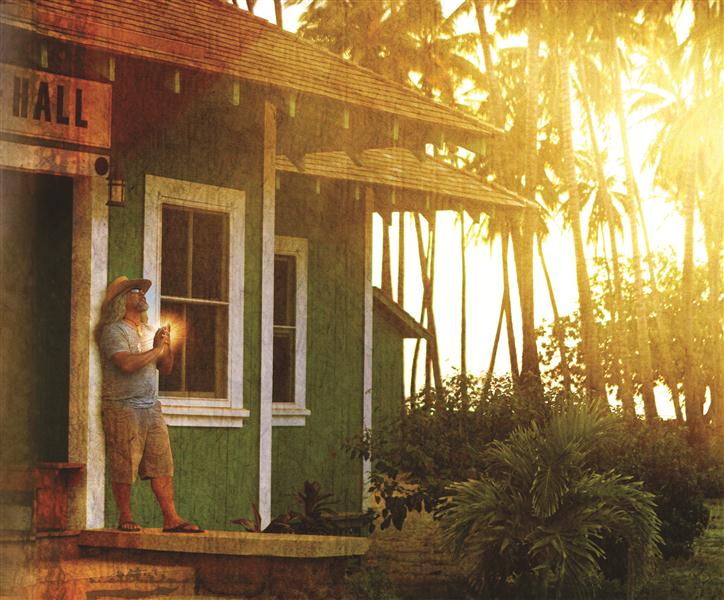 Late afternoon light streams through the trees bathing Kalanianaole Hall with a soft glow. Standing near the stairway, the musician known as Lono stares skyward with slightly clasped hands held near his chest. From within his palms, a similar but intense light emanates and glows, as if mirroring that of the setting sun.
This is the album cover of Lono's latest, "E Aloha E" – the sixth album in a series of Hawaiian music releases known as Old Style Hawaiian. True to the principals of the genre yet infused with Lono's originality, "E Aloha E" is a no-brainer for fans of Hawaiian music.
For Lono followers, and those enraptured by Molokai, this album is essential – the continuation of an important journey in uncovering the spirit of Molokai and aloha. Most importantly, it is a living conduit to the ancestors of contemporary and historical Hawaiian culture, and the aumakua protectors of Molokai.
As is customary of Lono's work, the album opens with the pahu drum beating like the slow rhythm of a heart. "Todd's Work," inspired by this writer, reflects Lono's ability to traverse to the other side and translate it for the rest of us.
"Moku Kia Kahi," or the "one-masted schooner," has been performed by Hawaii greats including Gabby Pahinui, George Helm and Brothers Cazimero, among others. Here, Lono honors The Sunday Manoa; and anyone familiar with the group will recognize their influence on Lono's work.
The theme of light shines in tracks "Ia 'Oe E Ka La," a song honoring King David Kalakaua, and "Po Anuenue Keia," meaning "the night rainbow" and composed for dancing hula.
Lono also pays respect throughout the album to prominent Molokai figures and people who have inspired and touched his work. "Ku`u Papale," or "my beloved lauhala hat," tributes Aina Keawe and was inspired by her sister, Molokai's late aunty Ku`ulei Perez. "Please oh please, bring Ho`ailona home," tells of Molokai's most beloved monk seal, KP2, and was inspired by Loretta Ritte. Track nine, "Ua Nani Molokai," reflects Lono's reverence for Molokai and the beloved kupuna who have influenced the artist's musical career.
Lono is known for his powerful message-filled music and continues to deliver with both classic folktales and important issues. "Kalaipahoa" reminds us to makaala the greed for Molokai's aina while the fifth track tells of Bokikumanumanu, dog god and protector of Makanalua. Visible from the air and the Kalaupapa lighthouse, the Bokikumanumanu heiau (stone temple) is the only one of its kind in the world. The song was inspired by kumu hula John Kaimiakaua.
The musicality is far from overpowered by his crooning vocals and strong stories. Pensive chanting, bird calls, flutes and ukulele plucking bring the olelo to life in tracks "Manu Mana`o" and "Hawai`i Pono `I," (my only lament is that the former is not at lease a minute longer). Lono also enhances the album with two slack key tracks, "Hanaikapono" and "Nanaikapono."
"Owl's Lullabye" is inspired by storyteller Kindy Sproat originally by Stan Jones. It is the perfect closer of the album and one of my favorites from Lono.
While the light on the cover of his album might seem to come directly from Lono's hands, he is in fact exposing and releasing a light that has always existed. In this, his sixth album of the Old Style series, Lono truly succeeds in bringing life to the ancestors of Hawaiian music and culture. Maika`i no – good job indeed!