Long-time Service Honored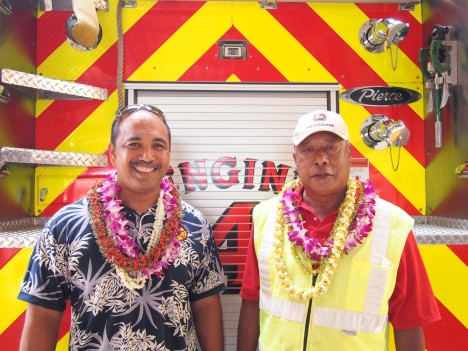 Molokai honored the retirement of two long-time county employees last week. Steven Arce is leaving the Public Works Department after 41 years of service, while Travis Tancayo put in 25 years with the Fire Department.
"I love my job," said Arce, who is retiring as Head of Public Works and Civil Defense on Molokai. "I worked to improve relationships with the public — it wasn't very good in the 70s."
For Tancayo, his job has brought a lot of travel that involved Hana, Na Pili, Lanai, and most recently as a Battalion Chief for Molokai, Lanai and West Maui.
"I've been away a lot from my wife and family — the commute to Maui has been challenging," he said. "[But] the last five years in the department has changed in a positive way… I feel like I'm leaving [it] in good hands and created relationships with different agencies that will be passed on."
Among those agencies is the Molokai Fire Task Force, which works across different county departments and groups to better protect the island from fire threats. Tancayo and Arce, both part of that effort, were honored at a luncheon held by the Task Force.
"I'm glad I got to care for this community," said Arce.