Long Range Development Plan for College Campus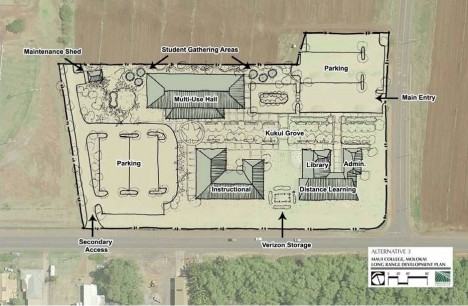 UHMCM News Release
After years of effort, UH Maui College, Molokai (UHMCM) has completed its Long Range Development Plan (LRDP) 2013, which was approved and received in June 2014.  The purpose of the LRDP is to guide the development of the Molokai Education Center to the year 2027, beginning with the transition from the existing two-acre campus and expanding to a five-acre campus utilizing the land to the west along the main road to Duke Maliu Regional Park.
The LRDP includes engaging visual aids on accordion style fold-outs to provide the reader with a clear idea of how the future campus might look.  It covers everything from the college program requirements, site assessment, alternate positioning of facilities, the ultimate site plan, design considerations, and a phasing plan with cost estimates.   Lastly, because the current Molokai Community Plan 2001 recommends that 15 acres be set aside for future college development, the LRDP also includes a conceptual site plan for a campus of that size which could be phased in eventually over a longer time frame.
A copy of the UH Maui College, Molokai LRDP is available for community members to review at the reference desk of the Molokai Public Library in Kaunakakai.   Please see a library staff member for assistance.   The faculty, staff and students thank our Molokai Program Advisory Committee for their hard work and diligent efforts over the last 30 years and the Molokai community for their past and continuing support.    UH Maui College, Molokai — A world of knowledge… here at home.