Long Live Art on Molokai
Known for its close community of musicians and artists, Molokai inspires with its rich culture, history, and natural beauty. Recently a group of artists, including Molokai keiki, had a chance to share their own inspiration translated into art.
The piece is comprised of several art mediums hewn together. Several kapa-patterned batik screens as wide as 12 feet hang from overhead. Below, on the floor, copper kalo leaves stretch skyward from their metal stalks. Bamboo, rock, and other natural materials compliment the organic vibe of the piece.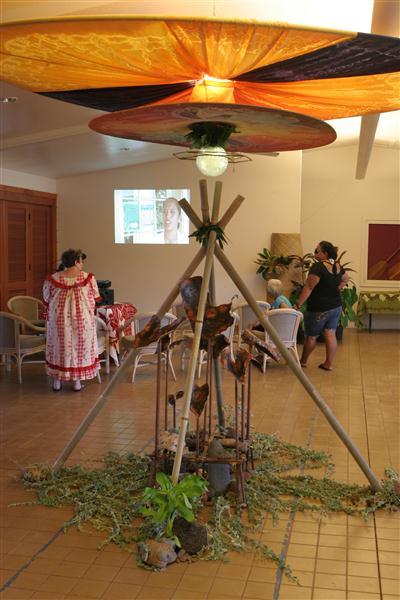 Over a year ago, the Hawaii Primary Care Association (HPCA) decided to give the state's 13 community health centers the opportunity to heal their patrons with more than medicine. They sent out applications for grant money to create wellness art projects, and the MCHC hopped on board.
"We liked the idea of trying to use indigenous art in a healing or therapeutic kind of way," said Cyrus Siu, MCHC's chief financial officer. Molokai received $19,000 for supplies, shipping, and artist stipends – money secured by Sen. Dan Inouye.
While the art piece made its debut at the MCHC groundbreaking, it later displayed at the Hawaii Convention Center in Honolulu. Molokai and two other community health center's projects were featured in an exhibition called "Maoli Arts in Real Time."
Siu added that once the health center completes its renovations of the old Pau Hana Inn, a permanent exhibit space will be planned for the Healing Project and other community art.
"The more people, the more ideas, the more mana`o you get, the more people it's going to touch," Tangonan said.