Local Woman Wins Journalism Awards
Community Contributed
By Heidi Chang
Hawaii's journalism community recently turned out to celebrate some of its best work at the annual Excellence in Journalism Awards dinner in Honolulu. The Society of Professional Journalists Hawaii Chapter handed out awards for work produced in 2010. Multimedia journalist Heidi Chang, who has Molokai ties, won the two highest honors for radio news and feature reporting. Chang won a first-place award for her story about Father Damien of Molokai: Hawaii's First Saint, which aired nationally on AARP Radio's "Prime Time Postscript."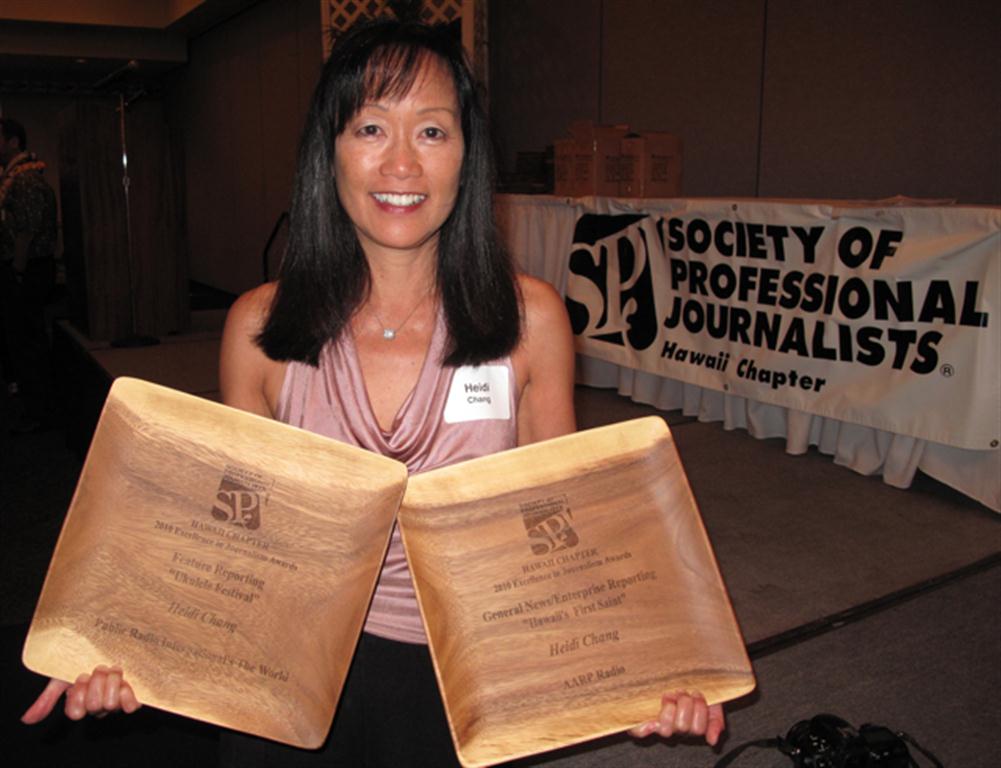 It tells the story of Father Damien and his work with Hansen's disease patients on Molokai. Chang interviewed Kalaupapa patients Clarence "Boogie" Kahilihiwa, Norbert Palea, and the late Kuulei Bell for the story.
Chang also won a first-place award for her story about the 40th annual Ukulele Festival in Hawaii, which aired on Public Radio International's "The World." She produced the radio story, and also a video of Jake Shimabukuro playing ukulele and took all the photos featured in the photo gallery.

Chang is part of the Yuen ohana on Molokai, who has lived on the island for generations. She has also contributed stories to The Molokai Dispatch, including one about her grandfather, Y.K. Yuen, and her late aunty, Marybeth Yuen Maul.
"It's always good to promote the best reporting in the state to make sure the standards are kept high, as the number of jobs in journalism decline, and the number of traditional media outlets shrink," said Society of Professional Journalists President Stirling Morita.
Chang is currently working on an oral history project in Kalaupapa with the Hawaii Council for the Humanities. If you'd like to collaborate or help in anyway, please contact Chang at Heidi@HeidiChang.com.
You can listen to Heidi's award-winning stories on her Hawaii Tales blog:
http://heidichang.com/2011/06/heidi-wins-two-spj-hawaii-awards-for-hawaiis-first-saint-and-ukulele-festival/
AARP Radio's "Prime Time Postscript"
Hawaii's First Saint (Father of Molokai)
http://www.youtube.com/watch?v=oAL9rsxYCd4&feature=player_embedded

Ukulele festival
Public Radio International's "The World"
http://www.theworld.org/2010/07/ukulele-festival/

Jake Shimabukuro – While My Guitar Gently Weeps – 2010 Hawaii Ukulele Festival
http://youtu.be/xE33l8JrFlQ

Hawaii Ukulele Festival: Photo Gallery
http://www.flickr.com/photos/pritheworld/sets/72157624434325193/
Society of Professional Journalists Hawaii Chapter
http://www.hawaiispj.org/

See a complete list of the 2010 Excellence in Journalism Award Winners here:
http://www.hawaiispj.org/Awards/2010%20contest%20news%20release%20USE.txt
Molokai Pioneer and Humanitarian: Yun Kee Yuen | Molokai Dispatch
http://themolokaidispatch.com/molokai-pioneer-and-humanitarian-yun-kee-yuen

A Groundbreaking Woman | Molokai Dispatch
http://www.themolokaidispatch.com/groundbreaking-woman