Living Science
Ever wanted to be a detective or a doctor? Students at Kilohana School got a chance to be both as they worked to solve medical mysteries. Bishop Museum's traveling Holoholo Science program visited the school last week as part of their state-wide tour. The program also made stops at Kualapu`u and Maunaloa schools during their week-long stay on Molokai.
This year's Holoholo theme for their evening program, medical mysteries, offered students the opportunity to diagnose medical scenarios and explore the field of health. Keiki learned how to pick healthy food groups, identify lice, monitor heart rates, and much more.
"[My favorite part] is the skeleton table because you get to see whether the bones are broken or not," said Kilohana second-grader Elisia. She said she aspires to "do something in science."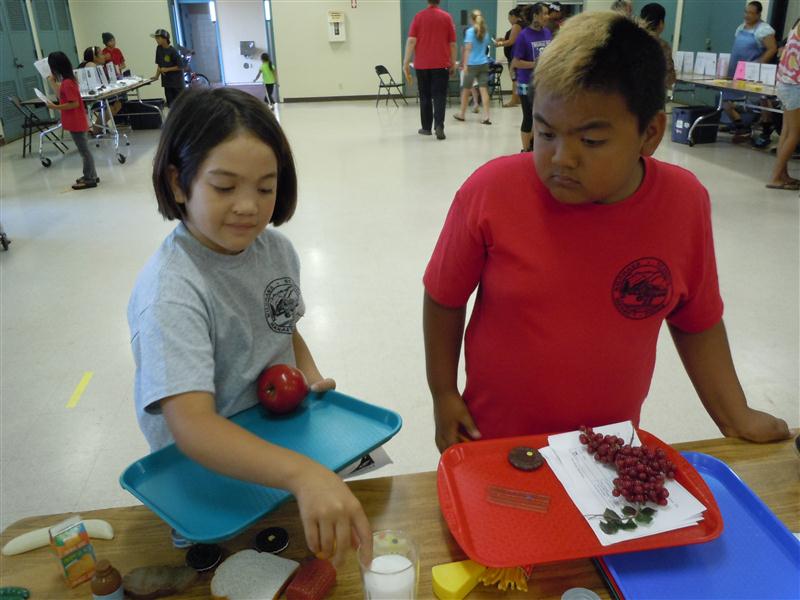 That's part of the program's goal – to make science more accessible to kids through hands-on activities and encourage them to explore science fields as a career, according to Melody Chang, one of the museum's program facilitators.
Hands-On
Holoholo is an outreach program of Bishop Museum that has been making the rounds on neighbor islands since the 1990s. Along with making science exciting for kids, the curriculum is designed to help students meet academic benchmark standards. Topics cover many science-related fields, ranging from astronomy to ecology.
Kilohana Principal Richard Stevens described the program as "very hands on – the stuff that attracts kids."
During a classroom workshop earlier in the day, students learned about the formation of the Hawaiian Islands by using tarps to act out the movement of the tectonic plates, according to Stevens.
"If we can't take the kids out to see the world, we try to bring the world here to the kids," he explained.
"I learned you have to balance your diet – you can't eat too much of one thing," said evening participant and Kaunakakai fourth-grader Gus, of an activity in which students chose foods that represented a healthy food groups.
In another activity, keiki learned proper tooth brushing technique using giant mouth models. "I also learned you have to brush your teeth for two minutes," Gus said. "Sometimes I brush for less than that when I'm late for school."