Living Local
10th Annual Business and Food Expo highlights Molokai vendors
Molokai is often known as "`aina momona," or the fat land, because residents have always had the capacity to grow their own food, catch their own fish and hunt their own meat. The annual Business and Food Expo, hosted by Molokai Chamber of Commerce, is an opportunity to highlight vendors who use the bounties of the land to produce award-winning food and products that offer visitors and locals a taste of Molokai. Last Saturday marked the 10th expo, aptly named "A Taste of Molokai," which featured local food and business vendors, celebrity chef demonstrations, gourmet food samples, prizes, music and entertainment.
"Every year, [the goal is] is exposing companies and products," said Cameron Hiro, who has helped coordinate the expo on Molokai for the past nine years. "It has a different feel to it than just Saturday market, with chefs from Maui, showcasing local people from Molokai –we need more of that."
Chef Dean Louie from Maui Culinary Academy, Chef Chris Schobel from Hula Grill on Maui and Chef Gene Pike from Hotel Molokai put on cooking demonstrations of the gourmet dishes that were available for purchase at the expo. Many of the dishes featured Molokai produce, such as a pad thai with fried Molokai Shrimp, sliders with range-fed Molokai beef patties and grilled Molokai tilapia fish with basil pesto risotto using produce from Molokai's Kumu Farms.
"The kitchen has been down since the fire in June, but we want to let everybody know we're still coming back," said Chef Gene Pike. "[The menu] is going to be bigger and better and we want to show people what we can do with Molokai products."
The expo also featured a number of local vendors. Dennis Keanini, who has been participating in the expo for the past three years, displayed his custom-made dry boxes, which he said local residents use to dry fish, meat and fruits. He started his business five years ago, crafting boxes that range from 2 by 2 feet, which cost $50, to 3 by 6-foot boxes, which cost $260. Custom orders are available by calling 646-0110.
Psalty Acres Farm, which produces the award-winning Soul of the Sea gourmet salts, debuted their new line of flavored sea salts at this year's expo. The new line includes a lemon sea salt, a Molokai coffee sea salt and a balsamic vinegar sea salt. They will be made available for purchase in the next few months.
"The expo helps bring awareness in the community of what products and services we have," said Jacque Hiro, co-owner of Psalty Acres Farm, which has been a part of the expo since the event's inception.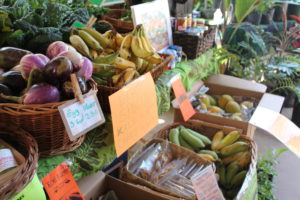 Other vendors included Shaka Signs, which offers decals, signs, stickers, banners and other print jobs; Mo' Bettah Lime Farm, which provides Molokai-grown limes and lychee; Denise's Gifts of the Islands, which featured Hawaiian shirts and jewelry; Coffees of Hawaii; and Kumu Farms.
In the past, the expo has been held at Lanikeha Center and Mitchell Pauole Center. This year, the event was hosted at Paddler's Inn, a smaller venue to accommodate significant cuts in the budget, according to Robert Stephenson, President of the Molokai Chamber of Commerce. Despite the venue change, hundreds crowded in to sample local foods, produce and goods.