Lindo Promoted to Battalion Chief
Maui Fire Dept. News Release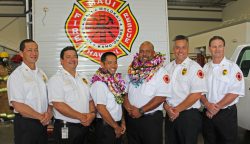 The Maui Fire Department is proud to announce the promotions of Henry Lindo Jr. to the rank of Battalion Chief.
Henry "Hanale" Lindo Jr. joined the department in 1994. During his career, he was stationed in Paia and Kahului as a Fire Fighter I. With his promotion to Fire Fighter III in 2005, he served in the Fire Prevention Bureau as a Public Education Officer and a Fire Inspector on both Maui and Molokai. In 2009, Lindo was promoted to Fire Captain, working first in Kaunakakai, Molokai, then in Ho'olehua, Molokai.
Hanale is a member of the Maui Incident Management Team, the Critical Incident Stress Management Team and the Molokai Fire Task Force. He is a 1990 graduate of Kamehameha Schools. Chief Lindo lives in Ho'olehua, Molokai with his wife Zhantell, and has eight adult children.
Kristopher Sakamoto of Wailuku was also promoted to Battalion Chief and will serve on Maui.
The promotions were effective March 1.