Lights, Camera, Aloha!
Molokai hosts annual film festival.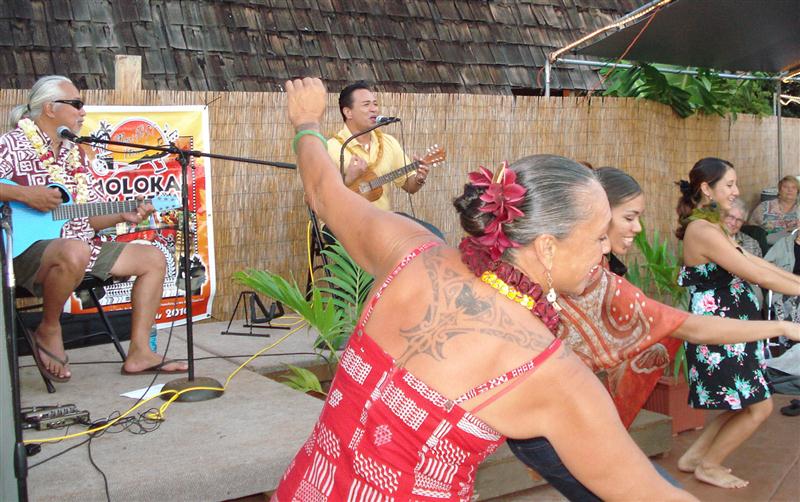 As the sun went down on Saturday, the lights went up on the silver screen at the seventh annual Molokai Film Festival.
Nearly 200 people came out for the festival at Hotel Molokai, organized by MauiFEST Hawaii. It hosts a similar event on Lanai, and organizers said they are meant to bring movie- watching to communities without access to theaters.
"It's a great way to bring high quality entertainment, fun and aloha," said Ken Martinez Burgmaier, a filmmaker with MauiFEST Hawaii.
In years past, Molokai filmmakers were featured at the lineup, but this year none submitted films. The Friendly Isle was not missing from the screen, however, as Burgmaier premiered two films on Saturday festival that were filmed on Molokai – "Journey to Kalaupapa" and "Massacre at Kaupoa Beach," which showed community reaction to the destruction of a cultural site.
The festival is not just about the films. During the day, musicians and cultural performers entertained the crowd. Brother Noland – who preformed with his brother Tony C for the first time in nearly 15 years — had the crowd Hi! Hello!-ing along.
Calvin Hoe held a workshop on making and playing the nose flute. He later preformed with instruments made on-site and gave a few away to lucky keiki and visitors.
"It's important to keep the form of story telling alive," Hoe said. "Ingenious people need access to tell our stories."
In previous years the festival was held at the ballpark in Kaunakakai and Coffees of Hawaii. Organizers said they were excited about the move to Hotel Molokai.

"We've wanted to have it here before – it's so intimate, and the stage is all set up for live music," Dave Lower said.
MauiFEST will be in Lanai City next weekend and moves to Hana in October.