Liberty Dialysis Upgrading
Molokai Dialysis Facility is preparing to upgrade their facilities to better suit special case patients, so they'll no longer need to travel off-island for dialysis treatments.
"Most people would just move off-island, so this way they can stay on Molokai," said Kristie Capardia, clinical manager at Molokai Dialysis Facility. The new isolation room will be to serve hepatitis B patients. She added most people require dialysis three times per week, so traveling back and forth for treatment can get expensive and time-consuming.
Dialysis is an artificial filter treatment used to clean blood in people who have acute kidney failure.
Liberty Dialysis-Hawaii has been on Molokai since 2006, and the dialysis center was operated for six years by St. Francis Healthcare System before that.
To be in compliance with new Center for Medicaid Services (CMS) standards, set in 2009, Liberty Dialysis has filed for a permit and will start building an isolation room as soon as the permit is obtained through Maui County.
"We don't know when the permit will be approved, but we'll start construction as soon as possible," said Melissa Souza, Director of Operations at Liberty Dialysis for facilities in Maui County.
Caparida said she could not share how many patients will benefit from this new service, due to privacy laws. However, patients are in good hands. Liberty Dialysis on Molokai won an award as a "Best Practice Facility" in 2010.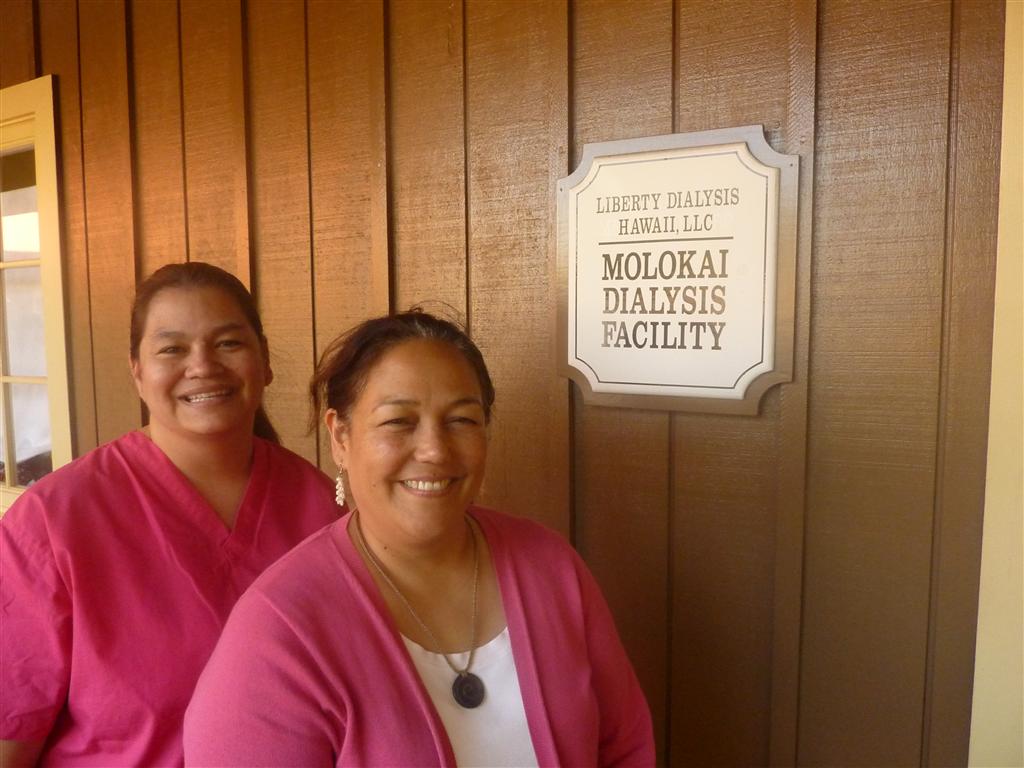 The facility gained that title for performing arteriovenous fistulas on 80 percent of their patients in 2010. "For AV fistulas, surgeons join a vein and artery to draw and purify blood – a preferred method to perform dialysis.
"That type of access lasts many years," Souza said. "If it's your own vein it will last many years opposed to a temporary catheter."
Liberty Dialysis-Hawaii has been active on Molokai for eleven years with the help of the Molokai community, St. Francis Medical Center and David and Judy Mikami. The Mikami's, who own Molokai Drugs, leased space for free for the first 10 years of business in the Kamoi Center.
"With the help of the community and the Mikami's, we were able to put this facility together. And it's truly been a blessing," Souza said.
Liberty Dialysis has a history of helping patients in rural areas. They have been providing in-home service in the small community of Hana since 2007 – before that, Hana patients had to travel 52 miles to the nearest dialysis care center in Wailuku.

Liberty Dialysis-Hawaii is the only certified communal home treatment facility in the nation. They were recently approached to move forward with home communal service in Kalaupapa and will begin as soon as possible.
"We are currently sending some people to evaluate the area," Souza said.