Lei Crafters
Community Contributed
By Alison Place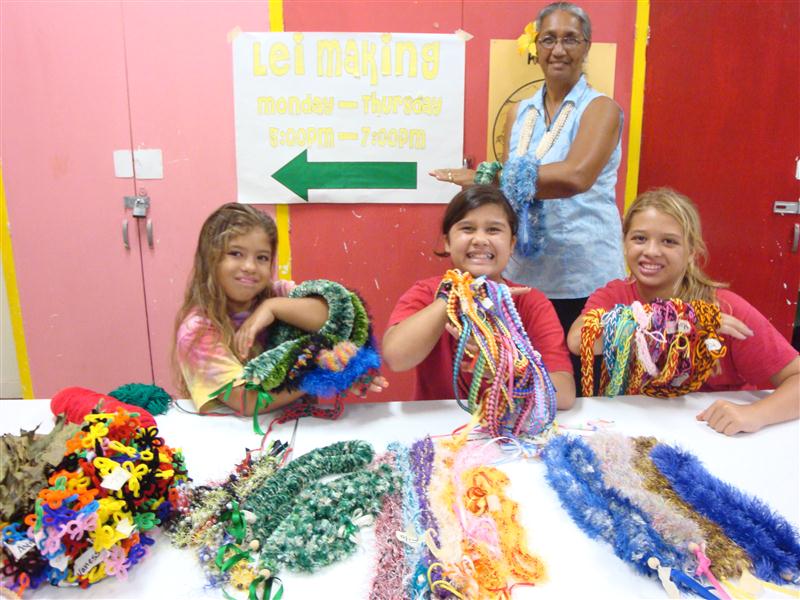 There are many ways to make a lei and the varieties are limited only to one's imagination. The Lei Making class at Kilohana School is the perfect venue for those who would like to try their creative and innovative skills in the art of lei making. Taught by Elano Naki, students young and old gather to learn about traditional and non-traditional lei making. From raffia to colored pipe cleaners to Chunky yarn for sale and ribbon, a wonderful array of lei are on display, a visual testament to the passion and creativity of the participants. "This is my passion. I love to make lei. I've been doing this for years," Naki said.
Her students range from elementary-aged children to adults. Second grader Gabby Miguel was making a yarn lei, her favorite. Linaka Akutagawa and Journey Miguel, sixth graders, both enjoy making the yarn lei as well. Journey added, "The most challenging lei to make so far was the ribbon, but then I got used to it."
Eventually the lei making will transition to fresher ingredients. The class will be making ti-leaf, plumeria, koa seed, and haku, utilizing kukui leaves, palapalai ferns and other fresh fauna.
The lei making class is free and is sponsored by the 21st Century Grant: Connecting Molokai M's:  "Me, My Mind, My Mana`o".  Classes are Mondays through Thursdays from 5 – 7 p.m. in the Kilohana cafeteria. For more information about this or other 21st Century classes, contact Joshua Adachi at 553-1730. For more information about other 21st Century classes at Kilohana, call Richard Stevens at 558-2200.