Lego My Robot
Molokai robotics team competes for first time.
For many, robots conjure up images of the Space Age, the Jetson family cartoon, Japanese inventions and one day, the hope of a robotic servant. They are iconic machines, often featured in film as highly complex machinery or bio-mechanical hybrids. In reality, robots can be constructed by anyone – including students on Molokai.

"A good robot design has to have something to keep it stable…and does the same thing over and over again," said Kylee Bush, a fifth grader at Kaunakakai Elementary school.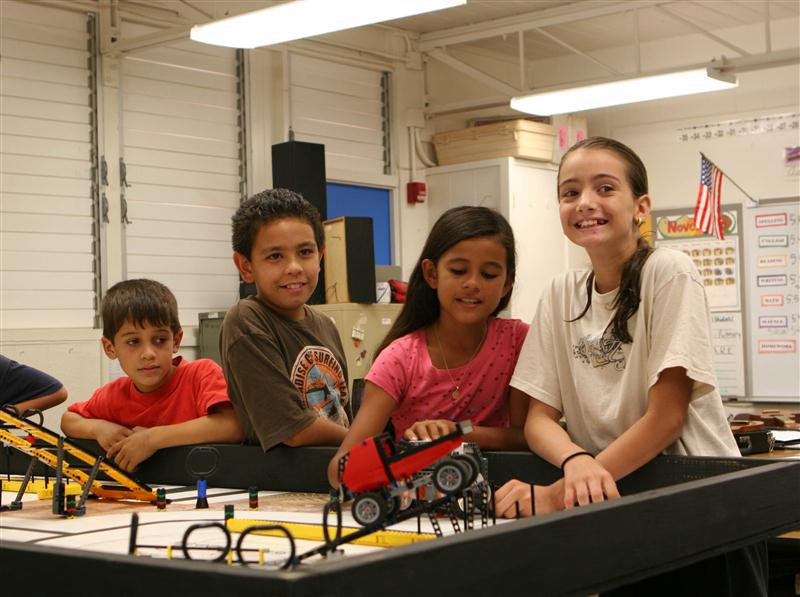 build lots of things, but it's cool to build robots instead of Lego cities," Svetin said.

Heidi Jenkins, the group's leader and third/fourth teacher at Kaunakakai Elementary, was instrumental in bringing the program to Molokai. She attended a Teachers' Space Camp about five years ago, where she was exposed to the Lego robotic program.

"I thought it was great for the kids to get this real world application," she said.

Jenkins and fifth grader teacher Kawika Gonzales started a group last January to get their kids interested in robotic technology. They even held a mock tournament for the students. This year they were able to take their students to a real tournament, thanks to grants from the Maui Economic Development Board (MEDB), the Air Force, and 21st Century, a federal grant given to rural and inner-city schools for after-school programs.
Kylee Bush was in the initial group last school year.

"On TV I always hear about Harvard, and it's a good school. I want to be an inventor, and this will add to a better chance to getting into Harvard," she said.

The MEDB provided $5,000 from their Women in Technology division. The group's goal is to see equality in STEM (science, technology, engineering and math)-related fields for women, as well as native Hawaiians.

Since one of Molokai's teams was made of all girls, and about half of all the participants from Molokai are of native Hawaiian ancestry, Jenkins said the Board was excited to support them. All together, Jenkins estimated the program received $7,000 in grants for the tournament.

After December 19, the best Hawaii teams are eligible to compete in the International First Lego League robotics competition in Atlanta, in May 2010.

"I was very proud of them," Jenkins said of the girls. "You never know as first year teams what to expect, but I was very impressed how the girls handled themselves."

Jenkins said their next step is to "polish what we have," as well as figure out how to get to Honolulu financially.