Legislators Tour Molokai, Talk Wind
Standing on the side of Maunaloa Highway last Wednesday – with the red dirt and green grass of Pu`u Nana Hill behind him, the blue ocean and white sands of Mo`omomi down below – Kanoho Helm made a sweeping gesture with his hand. He pointed to the some of the 11,000 acres on which local families hunt deer and gather opihi to feed their families, he said, and which is home to important shrines and burial grounds.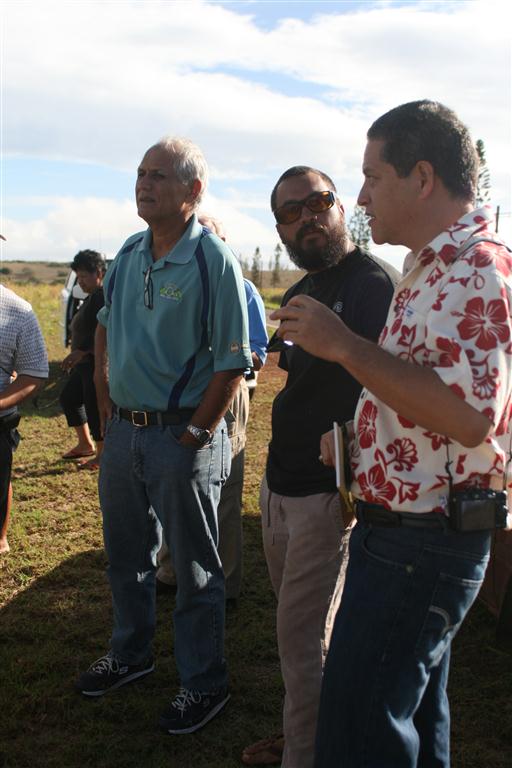 situation. We are getting worse," he said, questioning whether the wind farm might help struggling families.
Gabbard recommended residents seeking more information call his office at 808-586-6830. He added it was also partially Pattern's kuleana to provide education about the proposals.
'Loud and Clear' Opposition
Still, most said there were no benefits worth the impacts of industrial turbines.
"It's overwhelming opposition to this project, and you as our elected officials carry our voice into the walls of the House or the Senate," Marcus Helm told the legislators at the Mitchell Pauole Center. "With that, there will be no windmills."
Resident Adolph Helm noted a resolution recently passed by the Association of Hawaiian Civic Clubs which urges the governor and state legislators to "support sustainable, low impact alternative energy that will make Oahu energy self-sufficient rather than dependent upon Lanai and Molokai for its energy."
The resolution also seeks to "protect the open spaces, natural resources and Hawaiian lifestyle of Molokai, the last Hawaiian island."
Gabbard said he heard residents' mana`o "loud and clear." He said his three biggest takeaways were that the "vast majority" of residents "do not want a wind farm under any conditions," that Molokai residents want each island to take care of its own needs, and that natural resources should be left alone.
In a phone interview Sunday, Gabbard said he had not yet had a chance to fully debrief with the other legislators.
"The feedback that we got was incredible on both islands," he said.
Videos of the visits recorded by documentarian PF Bentley are available online at youtube.com/user/IAlohaMolokai.