Leaders in Waiting
Students stake claim in Molokai's future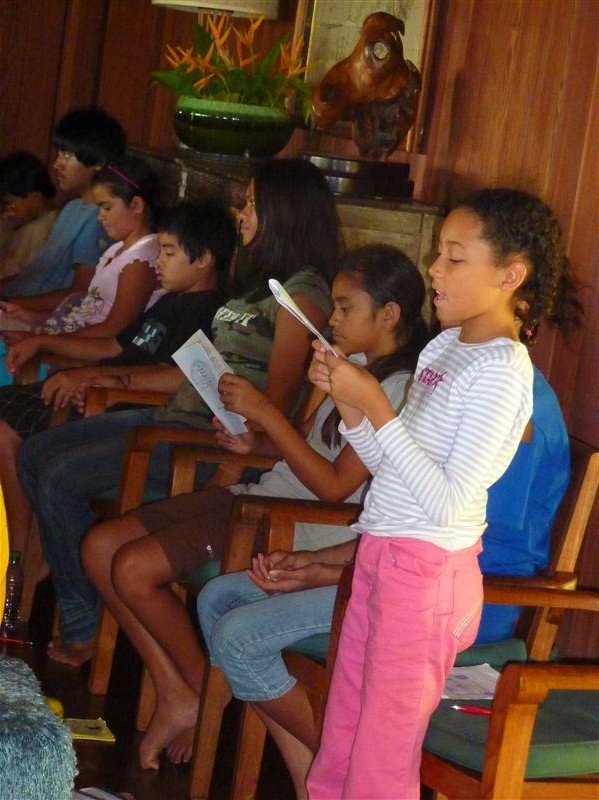 ."
"This is our responsibility," added Alex Gilliland, 13, who wrote the group's vision statement.
Heavy Lifting
Asking a group of pre-teens to set the agenda for economic growth or education reform is not easy. The students said it took a few days for them to understand how to work together and flush out their ideas.
"I knew we were going to work," said Decker Bicoy, 11, "but…"
"It was hard at first," Tamanaha finished.
The students were also divided along school lines – the group included Aka`ula, Kualapu`u School, Kilohana Elementary and Molokai Middle School students, as well as one home-schooled student.
"It amazes me on such a small island that we polarize by community," Newberry said. Fortunately, she added, in close quarters the students couldn't help but bond. "Then the walls came down and it was a cohesive group with a vision."
Christina Nakihei, 10, was one of two students from Kualapu`u School at the summit. She said at first it was scary being thrown into a group of kids she didn't know, but by the end she felt at home.
"I just made friends with them this whole week!"
Yes We Can
The week wasn't all work and no play – in between panels and visioning sessions, the kids fit in rounds of star gazing, campfire stories and hikes through Pu`u O Hoku's grounds.
"Last night I stayed up way past bedtime," Gilliland boasted.
On Friday, parents were invited to the lodge for a small reception. The students read the goals they had drafted and gushed about their week.
"I think this will be one of the experiences in my life that I never forget," Hannah Alt, 11, told the crowd.
The group plans to reassemble quarterly to revaluate their vision and annually to host a multicultural festival. In 10 years, it will come together again to mentor a new group of Molokai students at the next Youth Visioning Project.
Until then, the students said, it's up to them to effect change.
"We want the people of Molokai to see our vision and try to reach these goals," said Kori-Lee DeRouin, 11.