Last Call to Vote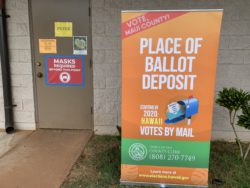 By Catherine Cluett Pactol
There's less than a week left to vote in the General Election— and if you've missed the deadline to mail in your ballot, or haven't even registered yet and still want to make your vote count, it's not too late. Molokai's Voter Service Center is open at Mitchell Pauole Center Conference Room.
It will remain open through Election Day on Nov. 3. Hours of operation for the Voter Service Center are now through Nov. 2, Monday through Saturday from 8 a.m. to 4:30 p.m. and Tuesday, Nov. 3 from 7 a.m. to 7 p.m. Ballots must be turned in to election officials by 7 p.m. on Nov. 3 to be counted.
If you haven't yet mailed in your ballot, it's past the advisable deadline to be counted, as it must be received, not postmarked, by Nov. 3. So head to the Voter Service Center, where you can drop off your ballot in person, vote electronically in person and even register and vote on the spot. Staff can also help you if you made a mistake on your ballot or want to change your mind on a candidate.
No traditional polling places will be open this year on Election Day. Now is the final chance to make your voice heard in this important election!