Larry Ellison Buys Island Air
Island Air News Release
Island Air closed the sale of the airline today to a newly formed holding company owned by Lawrence J. Ellison. The sale secures the future of Island Air and its employees.
There are no planned staff changes and Island Air will continue its operations as usual while developing plans for additional planes, routes and services. All current tickets will be honored and all Cloud9 members will retain their status and benefits.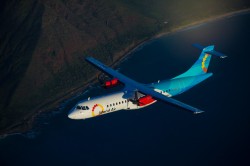 "This is another major investment and commitment to Hawaii," said Paul Marinelli, vice president of Lawrence Investments, LLC. "We understand the critical importance of transportation in an island state, and we will ensure that Island Air strengthens its role, capacity and service to the people of Hawaii. We recognize the need for providing options for travelers, and we believe Island Air has tremendous potential to deliver value to both residents and visitors."
"We are excited Mr. Ellison has acquired Island Air. He has the vision and resources to literally take Island Air to new heights," said Les Murashige, Island Air president. "The entire Island Air team pulled together over the past year to restructure and position the company for success and this sale represents the culmination of that process. I want to personally thank our 245 employees, the unions that represent them and our entire management team for their efforts this past year. And, on behalf of all of us at Island Air, we welcome Mr. Ellison and we look forward to an exciting future together."
Island Air has already added one new ATR 72 aircraft to its fleet. Island Air customers will now enjoy a larger plane with more seats, more legroom and greater comfort. The ATR 72 is also environmentally and economically superior to other aircraft in its category.