Land Trust Gets Go-Ahead
Planning Commission signs off on Mokio Point subdivision.
Molokai Land Trust (MLT) is one giant step closer to acquiring Mokio Point. Last week, the Molokai Planning Commission (MoPC) unanimously approved MLT's application for a Special Management Area (SMA) exemption. This allows MLT to move ahead with subdividing and formally acquiring the land.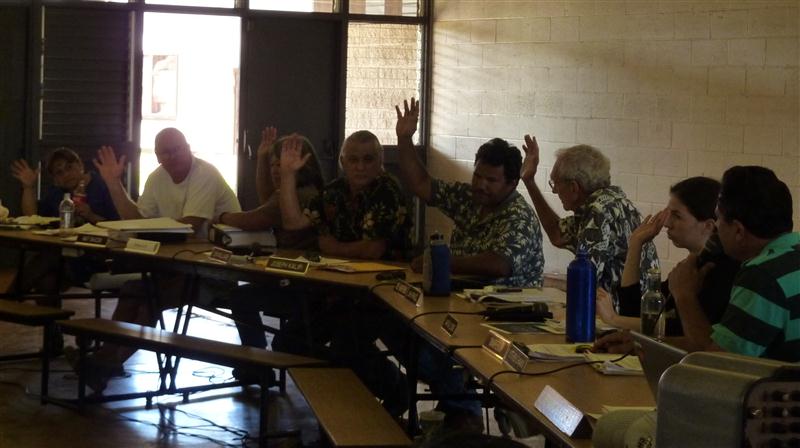 Mokio Point, a 1600-acre parcel on the northwest coast between Ilio Point and Mo`omomi Preserve, was gifted to MLT in 2008 by Molokai Properties Limited (MPL), also known as Molokai Ranch.
A subdivision would normally require a SMA permit, but because MLT has no plans to develop the land it requested the exemption.
MLT's application came before MoPC at its May 26 meeting. After over three hours of discussion and testimony, commissioners opted to delay a vote, citing issues with MLT's public access policy. Some commissioners expressed concern that MLT had excluded public input when drafting its policy.
Under that policy, MLT grants a limited number of permits to access the land for subsistence activities and cultural practices. There is no charge for permits and Molokai residents have priority over off-island visitors.
At last week's meeting, MLT Executive Director Butch Haase testified that MLT consulted community groups, including The Nature Conservancy that manages access to neighboring Mo`omomi, and that the Mokio Point access policy could be amended in the future.
"Our access system is an evolving process and what we have before us is the first incarnation," Haase said.
Voices in Support
The emotional meeting included tearful testimonies, raucous applause and at times even heckling from the public over commissioners' questioning MLT's intensions. Over 20 MLT board members and residents testified in support of the group.
"That's why they call them Land Trust – you have to trust them," one supporter told MoPC.
Colette Machado, MLT board president and Office of Hawaiian Affairs Trustee, echoed that sentiment. "We come with a good heart, a heart full of love for this island," she said.
At the May 26 meeting, Commissioner Lori Buchanan opposed MLT's exemption because of the access policy. "My mana`o has not changed… Be transparent in everything you do," she urged MLT last week.
The debate over Mokio Point began back in 2006 when, in an effort to develop on La`au Point, MPL offered the land as a gesture of good faith. While plans for La`au fell through and MPL closed its operations on the island, its gift of Mokio Point to the land trust proceeded. MLT signed a letter of agreement with MPL in 2008, and the group has been working to assume ownership of the land since then.
Now with the SMA exemption, MPL's engineering firm will work with the county's departments of Planning and Public Works to subdivide the land, according to Haase.
"We've gone through all the major hurdles, so it's the minor stuff that's left," he said in an interview, adding he hopes the process will be complete in the next six months.