Lanai Solar Farm Generating 1.5 MW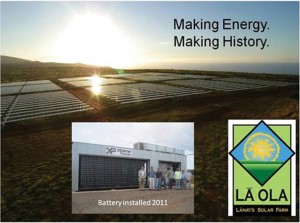 Castle & Cooke News Release
La Ola, the largest solar farm in the state, is now producing at its full capacity of 1.5 megawatts (MW) DC (or 1.2 MW AC) of clean solar energy on Lanai. The renewable energy generated by La Ola will help to stabilize electric rates on Lanai and reduce Lanai's importation and burning of foreign oil.
La Ola is the world's first utility-grade photovoltaic (PV) project to incorporate battery storage. The 1.5 MW solar farm located on the Island of Lanai, is capable of supplying up to 30 percent of day-time peak electrical demand on Lanai, and 10 percent of the island's total power needs. At full capacity, La Ola provides the largest percentage of renewable energy penetration from solar into an independent island grid in the world. La Ola produces enough power to meet the demand of over 400 Lanai households, which is the equivalent of the power produced from burning approximately 5,000 barrels of imported oil annually.
"Lanai is continuing to lead the way in Hawaii and the nation by becoming a world model of renewable energy production and sustainability," said Harry Saunders, president of Castle & Cooke Hawaii. "La Ola is a huge first step to facilitate that goal, as well as the renewable energy goals of the State of Hawaii."
La Ola is also helping the State of Hawaii reach its renewable energy goals and reduce Hawaii's overdependence on imported oil. For Lanai, La Ola represents a significant step towards meeting the island's ambitious goal of generating 100 percent of its energy needs from renewable resources.
We are pleased that Lanai will have a significant role in reducing the state's dependence on foreign oil."
La Ola is derived from the Hawaiian words for SUN (LA) and LIFE (OLA). Installation of battery storage was completed by Texas-based Xtreme Power , and made possible through Maui Electric Company. The La Ola solar farm is owned and operated by Lanai Sustainability Research, LLC, and is managed by Castle & Cooke Solar Management, LLC, a part of Castle & Cooke Hawaii's affiliated companies.