Lady Farmers Smash Maui, Lanai Teams
Girls' volleyball lose Oahu challenge
After a week-long break packed with six off-island matches, the Molokai High School girls' volleyball team returned home Sunday as the top seed for this weekend's Maui Interscholastic League (MIL) Division II tournament.
The Lady Farmers' week began on Oahu with two exhibition games against top-ranked Punahou and No. 1 Kamehameha last Monday and Tuesday. Molokai (7-0) was swept by Punahou in four tough sets, 28-26, 25-23, 25-11, 15-13, before losing to Kamehameha, 27-25, 25-23, 20-25, 25-22.
"We pulled off one set from Kamehameha," said head coach Matt Helm. "We got the opportunity to start seeing competition that we don't see in practice. It's good for us."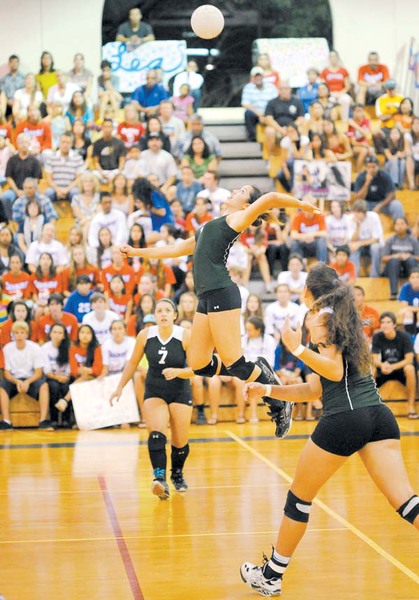 was the best game," Helm said. "They were tall, big, had good ball control. It was a good test for us."
Seven days and several matches later, Helm said the girls had a positive off-island experience and bonded as a team.
"When we travel, they get the opportunity to bond and come together," he added. "It allows them to play even better."
The team will make its way back to Maui on Thursday to face off with the winner of a Lanai and St. Anthony match in the MIL Division II tournament.