Kualapu`u School Students Planting Seeds of Peace
Community Contributed
By Greta Martinez, Kualapu`u School Librarian
January and February are months that highlight the theme of peace for two reasons:
Makahiki Games and Dr. Martin Luther King Jr. Day.  During this time, in the Kualapu`u School library, students in Kindergarten through sixth grade learn the art of writing peace poems.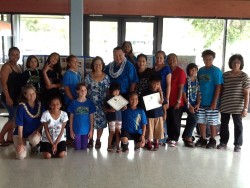 This year, all the poems were submitted to the statewide 16th annual Dr. Martin Luther King Jr. Peace Poem Contest, organized by the International Peace Poem Project in Maui. In Maui County, 22 Kualapu`u School students were proud winners of first and second prizes and were invited by Mayor Alan Arakawa and his wife Anne Arakawa to receive their awards at the awards ceremony on Maui.
On April 24, 18 students traveled on the Molokai Princess to Maui.  The students, amongst 80 other winners from Maui County, read their poems to an audience of about 100 families and received their awards from the Office of the Mayor. This was a memorable life-changing experience for these young poets. They were beaming with confidence, pride and happiness. Ten poems written in Hawaiian Language (the only poems written in Hawaiian Language) also won first and second prizes. The four first prize Hawaiian Language poems received special recognition from the Governor's Office and were awarded certificates from the State of Hawaii, signed by Governor David Ige. They won special recognition for being the only first prize poems written in Hawaiian Language.
Travel expenses were paid by The Friends of Alan Arakawa. We are very grateful to Mrs. Anne Arakawa for coordinating the ticket purchase and travel arrangements! This trip would not have been possible without her help. We are also grateful to Roberts Hawaii for providing free round trip transportation from Lahaina to Pukalani.
Congratulations to all these young peace poets, let's keep planting and nourishing the seeds of peace!