Kualapu`u School 5K Race Series
Kualapu`u School News Release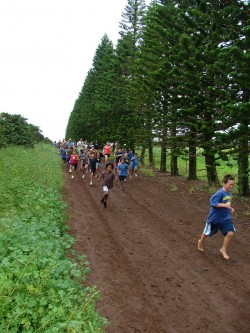 Kualapu`u Charter School announces the first of six 5K fun-raising races to be held this Saturday, Feb. 8.  All interested runners, joggers and walkers are invited to come to Coffees of Hawaii this Saturday to race.  Registration begins at 8 a.m.  Event start time is 8:30 a.m. The $10 adult registration fee will be used to send a team of Kualapu`u School runners to Oahu for the Honolulu 5K for Kids, slated for April 27.  There is no entry fee for students.
The six races in the series will be used as qualifying races for Kualapu`u School's six member team that competes on Oahu. The Kualapu`u team will be chosen based upon each runner's best three of five race results; total combined time in three races will be used to determine selection.  Team selection will be announced on April 12.  The final event on April 26 will serve to showcase the Kualapu`u team that will be racing the following day over on Oahu.
Other race dates in this 5K series are on alternating Saturdays: Feb. 22, March 8, March 22, April 12 and April 26. All 5Ks will begin at 8:30 a.m. from Coffees of Hawaii.  The 5K course will either be along Farrington Highway or in the nearby fields. Race location will depend on weather and road conditions.  For more information contact Sue Forbes-Kikukawa at Kualapu`u School, 567-6900.
Come out this Saturday to show your support for Kualapu`u School's health and fitness programs and running team.  Say yes to healthy lifestyle choices!  Don't wait until you get in shape to come out.  This 5K series is intended to be a fun self-paced event; use it as a way to measure your personal fitness growth.  Every other Saturday test yourself with a three-mile run / walk.  How much faster can you go? Can you pass one of those little whippersnappers from Kualapu`u before you cross the line? See you at the races!