KP2 Heads to Temporary Home in California
NOAA News Release
NOAA Fisheries Service announced plans to move KP2, the monk seal abandoned at birth, to a temporary facility at the University of California at Santa Cruz some time next week. During a recent medical examination, it was discovered that KP2 has cataracts that prevent him from being released back into the wild. He will undergo bilateral cataract surgery while in California. NOAA Fisheries Service plans to return KP2 back to Hawaii as soon as a permanent facility can be built for him and perhaps other unreleasable seals in Hawaii.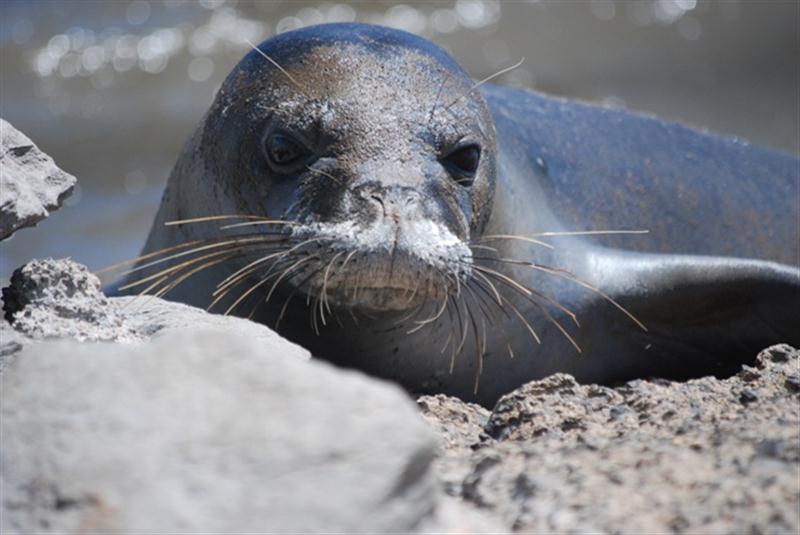 Since the day he was born, KP2 has been an ambassador for monk seals and has brought attention to the critically endangered monk seal population. NOAA Fisheries and the Waikiki Aquarium are facilitating a private native Hawaiian blessing to send KP2 on his way. KP2 has touched the hearts of many and we look forward to his return to Hawaii as soon as possible.

A native Hawaiian blessing will be conducted on Wednesday, November 18 at 12:15 p.m. on the front lawn of Waikiki Aquarium. David Schofield, NOAA official, Dr. Andrew Rossiter, Waikiki Aquarium, Walter Ritte, Molokai resident, and other cultural representatives from Molokai will be on hand for the blessing.

Due to quarantine concerns, the native Hawaiian blessing will be held in private.