KP2 Declared Blind
Molokai seal not to be released into the wild.
After a medical exam at Waikiki Aquarium last week, KP2, the young Hawaiian monk seal that had made Kaunakakai Wharf his home, was found to have cataracts. Veterinarians declared the seal to be 80 percent blind; with such limited eyesight, biologists say he's unlikely to survive in the wild.
NOAA officials removed KP2 from Molokai waters two weeks ago. He was taken to Waikiki Aquarium for a thorough health inspection before a planned release into waters around Niihau. But after learning of the seal's eye condition, NOAA has cancelled KP2's release and are instead discussing relocation to either Sea Life Park on Oahu or a mainland aquarium.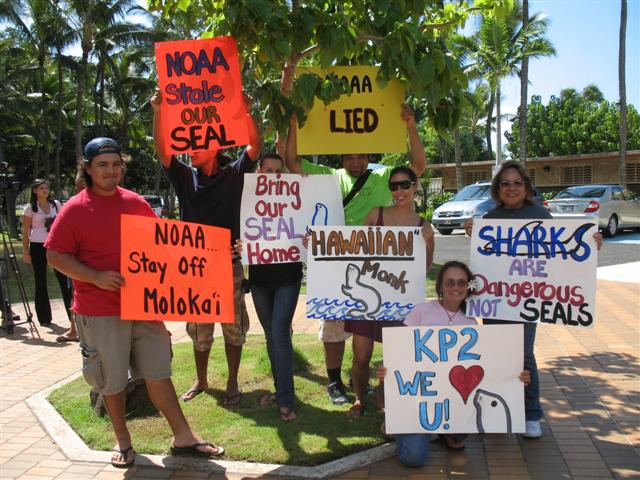 Some Molokai residents want KP2 returned to the island. They are outraged that NOAA removed the seal with very little public notice. Activist Walter Ritte led about a dozen residents to Oahu Wednesday to protest at Waikiki Aquarium. The group wants NOAA to build a sanctuary for the seal on Molokai. But officials say the idea is not logistically plausible.
Dr. Carmen Colitz, a veterinary specialist flown to Hawaii to examine KP2, said she believes KP2 developed cataracts so young because of a nutritional deficiency from never from his mother. KP2 was abaondonned by his mother at 24 hours old and raised by NOAA specialists for eight months. He is the first considered the first hand-reared Hawaiian monk seal.
KP2 was released in Kalaupapa last November and a few months later, appeared at the Kaunakakai Wharf. He became friendly with humans, playing with children in the water. In June, NOAA transported him back to Kalaupapa, hoping he would socialize with other young seals and "stay wild." However, in just two days, KP2 was back at the wharf and socializing with the only friends he knows — people.
NOAA specialists say KP2 was relocated from Molokai for safety reasons. They worried that as he reached sexual maturity, his play would become rougher and potentially dangerous. Incidents of nipping people and holding them under water were already reported.
KP2 is currently under quarantine at Waikiki Aquarium until plans are made for his future.