Kioea Declared Official Bird of Kaunakakai
Community Contributed by Arleone Dibben-Young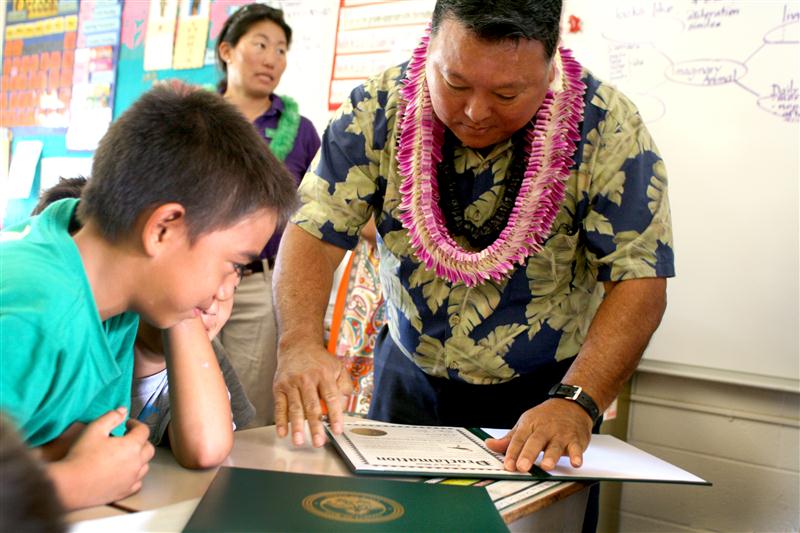 The proclamation to name the kioea the official bird of Kaunakakai, Molokai, was signed by Maui County Mayor Alan Arakawa and Council Chair Danny Mateo on Oct. 25, making it the second district in the state to declare an official bird. The signing took place at Kaunakakai Elementary School. The proclamation resulted from a petition of more than 1,000 signatures.
"It was a perfect match," Mateo said, "as written in the proclamation; its uniqueness reflects the individuality found of Molokaians."
The kioea (Bristle-thighed Curlew, Numenius tahitiensis) is one of the rarest shorebirds in the world and is found exclusively on tropical Pacific islands and atolls. Ancient Hawaiian poetical sayings unique to Molokai indicate the rare bird was once abundant. "Ku`u manu o o Ho`olehua" was said of the kioea, whose early morning call "Lawelawe ke o! Lawelawe ke o! Take the food! Take the food!" signaled fishermen it was time to go to the sea to go fishing.
A few years ago 46 million Americans claimed to be birders and spent more than $40 billion annually. Since then, birdwatching has soared and the U.S. Fish and Wildlife Service reports that it is the fastest growing outdoor activity in the U.S. Recent demographics indicate that bird watchers are usually highly educated, affluent, and will travel to remote locations to observe a specific bird or species. Known as avitourism, birders are expected to flock to Molokai as a destination in search of the rare Bristle-thighed Curlew, the island's kioea.