King Vying for Reform
Q & A with Lt. Governor candidate.
Having worked in Hawaii's legal system for 30 years, Adrienne King calls herself a "professional listener" – and did plenty of that on a recent campaign visit to Molokai. King, a Republican, is running for lieutenant governor, and last week The Molokai Dispatch sat down with her to talk about her plans for alternative energy, education reform and more government transparency.
Molokai Dispatch: What were some important issues you wanted to talk about during your visit to Molokai?
Adrienne King: I knew Molokai was the Friendly Isle — small, large Hawaiian community — and [has] had problems with the Ranch, water and windmills. From what I understand, it's the process of the windmills that's the issue – there aren't enough people listening to each other. We should ask, 'How can we do this better?' I've noticed the people who want alterative energy, those that scream the loudest, want to put [windmills] on others' land. I'm all for [alternative energy], just put it in your own backyard. We spend millions on importing oil; we should have serious exploration of everything – even nuclear [power].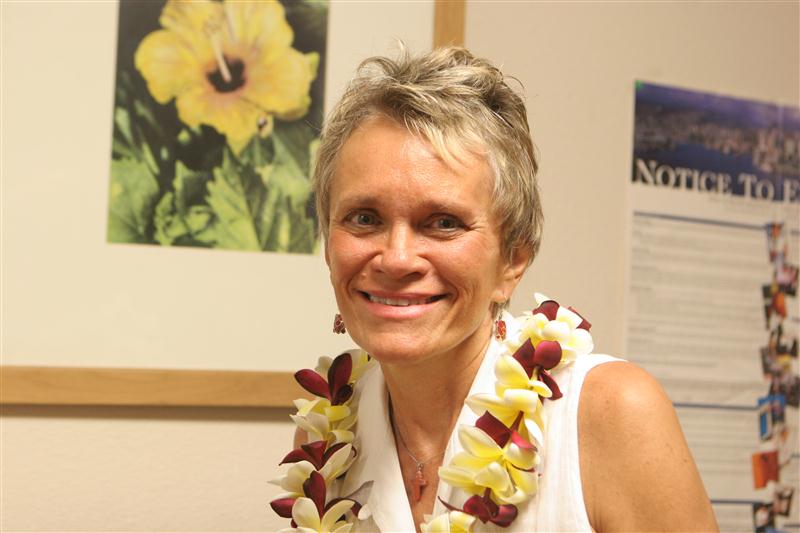 by political will, with parents on our side.
MD: What did you take away from your visit to Molokai?
King: How do we encourage change? People want new ways, to keep moving forward. We should have a world outlook, but not lose what makes Molokai so special. There's a struggle between maintaining values and yet wanting to modernize. I just want to listen to people and do what they want to do. One gentleman told me 'Just do the right thing, do what's pono.' The right thing is to help the people.

The Hawaii state primaries are on September 18.