Kilohana Honored
Kilohana Elementary School received an award from the Department of Education (DOE) in recognition of three years of improvements academically.
Kilohana was amongst the top five percent of public schools in the state that demonstrated a growth in math from 2010 to 2012, Ronn Nozoe, deputy superintendent for the Hawaii DOE, said in a letter to Kilohana principal Richard Stevens. The letter informed Stevens that his school was a recipient of the Strive HI award and a one-time grant of $12,500.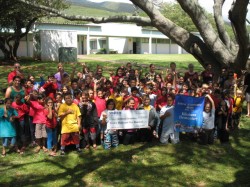 "The department is committed to schools like yours that emphasize innovation and reform, attempt to close the achievement gap, and prepare students for college and career," Nozoe said in the letter.
Kilohana was one of only 32 schools that received the award.
"I want to congratulate the principals, teachers, staff and students at these Strive HI schools for leading the charge in transforming our public education system," Governor Neil Abercrombie said. "They are setting an excellent example by showing what can be achieved when everyone strives higher toward a common goal."
Hoala Davis, a Kilohana parent and alumnus, said she was proud of the school, adding that Stevens also received the Edison President's award for making 10 percent gains in both reading and math last year.
Stevens received the award from the CEO of EdisonLearning, an organization that helps the school with the testing it goes through, at the National Educational Leadership Development Academy in Dana Point, Calif.
"There were schools [there] from all over the country, and just a handful walked away with these," Stevens said about the award.