Kenpo – A Frame of Mind
Community Contributed by By Kalei "Pumpkin" Moss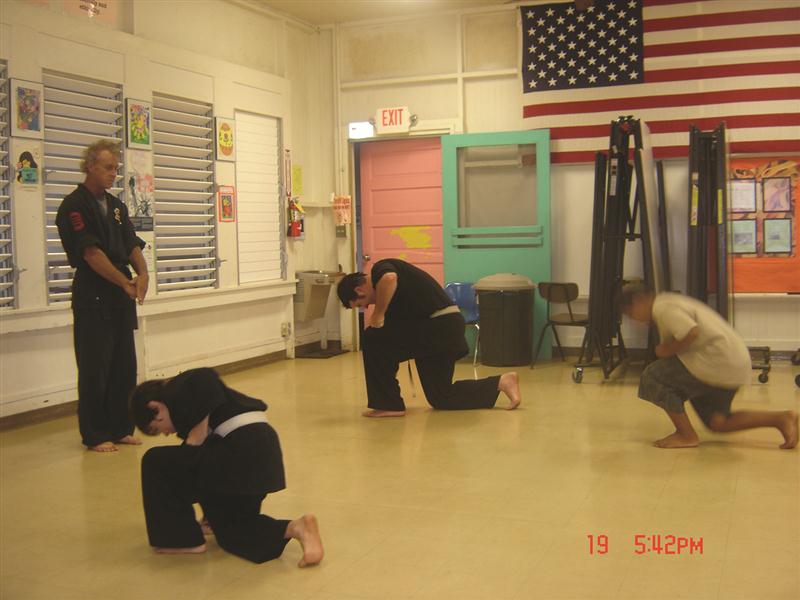 The sound of kiais, a vocal release of one's own inner "chi" or "spirit" (one's source of energy), echo throughout the halls of Kilohana Elementary School. Known regularly as the cafeteria to the students and faculty, from 4 to 6 p.m. on Monday, Tuesday and Thursday this cafeteria is transformed into a dojo. The students begin Kenpo class by bowing in respect to their sifu (instructor), Randy Foley, and take a knee to clear their minds and mentally prepare for the upcoming class. The class begins with a flurry of punches, kicks, and open hand moves as the class warms up to practice their kata or forms.
Kenpo in Hawaii was developed in the 1940s and incorporates different martial art styles such as Karate, Judo, Jujitsu, Kenpo and Kung Fu. Kenpo, which means "law of the fist," does not focus on one-on-one confrontations, but was developed to defend oneself from multiple attackers. Students are not taught with the intent to hurt others but to develop a frame of mind to resolve situations without using violence. Kenpo helps its students develop self-confidence and trains them to keep their composure and overcome their fears. Sifu Randy Foley not only teaches the students martial art skills but also teaches Kenpo's four rules to live by: humility, self-control, integrity and courtesy.
The Kenpo class held at Kilohana is funded by the 21st Century Grant program and is open to students of any age as well as adults. Students are taught structure, balance and focus and many of the students say it is just plain fun. One adult Kenpo student, Jay Duquette, explained that he started taking the class when his eight- year-old son, Malu, took an interest in it. Jay further explained that it gives him and his son a chance to bond and a common interest they can talk about at home. The class is comprised of a range of students from first timers to a student that has been taking Kenpo for nine years. Kenpo will challenge you both physically and mentally, and it is a great workout. If you or your children are interested in participating in Kenpo at Kilohana School on Monday, Tuesday and Thursday from 4 to 6 p.m., please call Mapuana Dudoit at 558-2200 or Sandra Czajkowski at 658-0609. Look for upcoming articles highlighting more of the exciting classes the 21st Century Grant program has to offer.