Kelly's Platoon Announces Fall Itinerary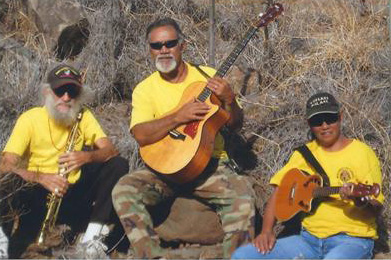 Ray and Leina Kelly, pictured here with reedman Kaliflowa, have scheduled public appearances at the annual Veterans Day Memorial Parade in November and the Christmas Parade in December. Two other members of the platoon not pictured, Doug Barnd (bassist) and Kimo (percussionist), will round out the group. Barnd, Kaliflowa and Kelly are veterans and members of Koa Kahiko which proudly hails the platoon as its personal musical contingent.
Kelly is the founder of Na Mele O`Kupuna, one of the most unique and popular venues on Molokai. They have been appearing weekly at the Molokai Hotel for over 12 years. A recent decision by the band to withdraw from further participation at the hotel has created a controversy. When questioned about the move, Kelly responded, "Na kupuna are our elders and must not be neglected by 'cut-backs' and by disregard of the cultural ideals they represent. They are our ohana and as creator of na kupuna, I find it my obligation to speak up and take action when things aren't pono. This is Molokai, not Hollywood."
To date, there has been no response from the management of the hotel regarding the band's decision.
Sandy Macone