Keiki Surf Kicks Off Summer
Community Contributed
By Peter Angelsea

E komo mai! The first surf meet of the Summer Surf Series had 28 keiki surfers ages two to 13. They surfed their way through the day with a nice rising tide which brought perfect little knee-high sets. The weather was light trade winds, with the sun shining and the rain to cool us all off in between sets. This year marks the 22nd anniversary of this event brought to you by Ko Molokai Keiki `O Ke Kai and Friendly Isle United Fund.
Great surfing tricks were displayed by the youngsters: switch-foot, the coffin and even a standing-lotus. Many of the rides went all the way to the beach. Friends and parents enjoyed longboarding with the kids at the end of the meet.
This all couldn't have happened without the help of the community at-large. Every year the ohana of Waialua opens up their neighborhood for the pure enjoyment of the keiki surfers and their ohana. And every year keiki surfers, friends, family and volunteers enjoy the nice beach, grassy area and fun-sized surf to practice on. We all want to thank everyone involved for the continued support of Ko Molokai Keiki `O Ke Kai Surf Meet!
The next surf meet will be on June 25 and it's not too late to join the fun. Children who were age 12 or younger as of January 1, 2011 can participate (if you turned 13 after Jan. 1, 2011 you can still join). The last meet, with potluck pa`ina and awards ceremony afterwards, will be held July 9. Registration opens at 9:30 a.m. and the meets begin at 10 a.m. Call 558-8110 for more info. We hope to see all you keiki surfers there!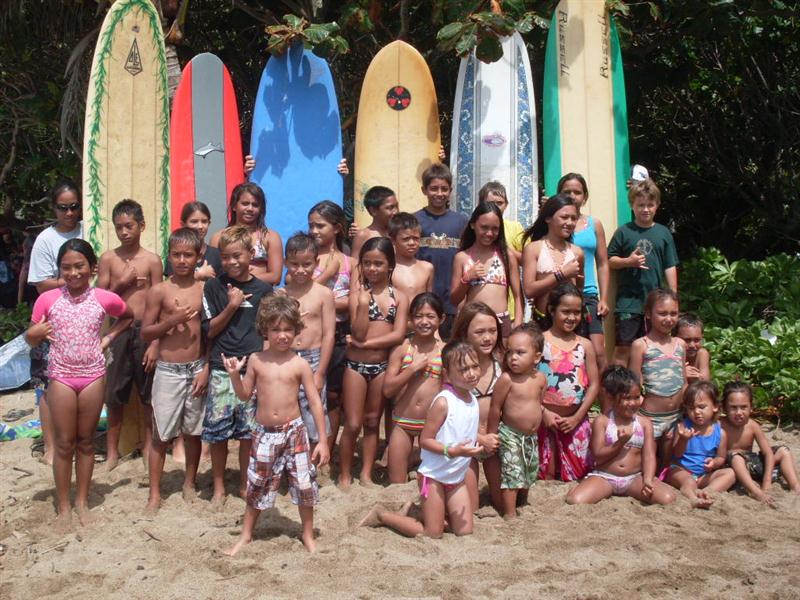 Below are the first meet's point standings:

6 & Under
Kailani Bicoy 1000
Kristen Oswald 860
Khloe Bicoy 200
Waiikaika 200
Matthew McGuire 200
Donovan Bicoy 200

7&8
Keeya Bicoy 1000
Slater Oswald 860
Kamalani Adolpho 730
Alex Mawae 670
Jonny Lopez-Agliam 610
Tylea Cuello 610
Beverly Ludgate 555

9&10
Kelsey-Lee Bicoy 1000
Kanalu Lopez-Agliam 860
Waiohinu Cuello 730
Kaeo Waits 670
Rafael Adolpho 610
Elkan Bishaw 583
Kaydence-Lee Oswald 555
Marlina Pupuhi-Kamai 555
Ioana Ludgate 555
Josie Mawae 488
Michelle McGuire 488

11&12
Decker Bicoy 1000
Noah Archuleta 860
Lelia Cuello 730
Barbara Ludgate 670