Keiki Surf Holds Final Meet of the Summer
Community Contributed
By Minka Nelson and Peter Angelsea
Saturday, July 9 was a perfect day for the final Keiki Surf Meet because the tide was rising for most of the morning, pushing in waves with one to two foot faces. Several new faces arrived for the final meet, as well as some old friends who moved off-island a few years ago. It was a chance for everyone to enjoy the ocean together and show off skills and tricks.
The 6-and-under surfers hit the water first to show their stuff. Several non-swimmers stood up on their surfboards for the first time and rode to the waiting arms of a family member. It is amazing to see how these babies love the water and how well they can balance.
The 7-and-8 division followed and did their thing with style! Next was the 9- and-10-year-olds, most of whom were able to catch their own waves. Finally, it was time for the big kids to see who would get the best waves. Most of them were catching their own waves too, and paddled back out as fast as they could in a race against the clock.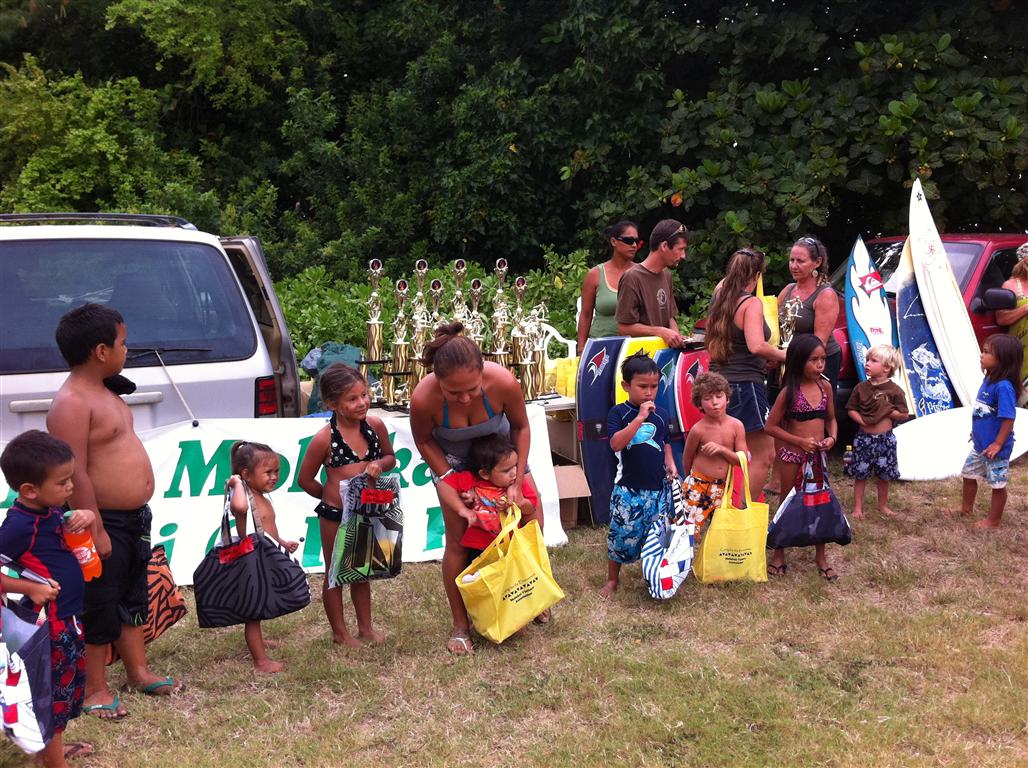 The volunteer judges watched carefully to see who caught their own waves and how each child did on the rides. It can be hard because three or four kids can be surfing one wave at the same time. Two surfers in the 7-and-8 division ended in a tie for third place, so a "surf-off" was held for the first time in several years. These two surfers were put head-to-head in a 10-minute heat.
Trophies and prizes were laid out after the meet and the kids had a hard time keeping their hands off. A pulewas offered in thanks for the great day, good sportsmanship and wonderful food.
While everyone ate lunch the surfers were called up by division and awarded goodie bags filled with stickers, hats, T-shirts and other great prizes. Four surfboards and four body boards were given out, as well as trophies for first through fourth place in each division. Every surfer got prizes, applause and photos of their proud smiles. Long-time supporters Don and Lavone Pahia hand-delivered two boxes of prizes from Quiksilver on Oahu to encourage the surfers and share in the fun.
Keep surfing keiki and we'll see you next summer!
Results
Divisions MEET 1 MEET 2 MEET 3 TOTAL POINTS RANK
6 & Under
Kailani Bicoy 1000 1000 860 2860 1
Kristen Oswald 860 730 0 1590 2
Kauwila Lopez-Aglian 0 860 610 1470 3
Khloe Bicoy 200 670 555 1425 4
Kahula Kahokuloa 0 0 1000 1000 5
Matthew McGuire 200 200 555 955 6
Donovan Bicoy 200 200 500 900 7
Kanikaio Inciong 0 0 730 730 8
Leedan Lorico-Place 0 200 500 700 9
Kamele Kahokuloa 0 0 670 670 10
La'akea Inciong 0 0 610 610 11
Kaipu Kahokuloa 0 0 500 500 12
Ivan Yap 0 0 500 500 12
Waiikaika 200 0 0 200 13
7&8 Divison
Keeya Bicoy 1000 1000 860 2860 1
Tylea Cuello 610 730 610 1950 2
Jonny Lopez-Agliam 610 555 730 1895 3
Alex Mawae 670 670 555 1895 4
Slater Oswald 860 860 0 1720 5
Kamalani Adolpho 730 610 0 1340 6
Beverly Ludgate 555 0 555 1110 7
Virtuous Kaahanui 0 0 1000 1000 8
Kukiai Kaopio 0 0 670 670 9
Sirius Lumin 0 610 0 610 10
Miracle Kaahanui 0 0 610 610 10
S9&10 Division
Kanalu Lopez-Agliam 860 1000 1000 2860 1
Kelsey-Lee Bicoy 1000 730 610 2340 2
Marlina Pupuhi-Kamai 555 860 860 2275 3
Kaeo Waits 670 555 730 1955 4
Waiohinu Cuello 730 555 0 1285 5
Michelle Mcguire 488 583 670 1741 6
Josie Mawae 488 488 555 1531 7
Kaydence-Lee Oswald 555 730 0 1285 8
Rafael Adolpho 610 610 0 1220 9
Ioana Ludgate 555 0 500 1055 10
Heavenly Kaahanui 0 0 600 600 11
Elkan Bishaw 583 0 0 583 12
Kalena Vaivai 0 555 0 555 13

11&12 Divison
Noah Archuleta 860 860 860 2580 1
Decker Bicoy 1000 730 730 2460 2
Hojo Pou 0 1000 1000 2000 3
Lelia Cuello 730 610 555 1895 4
Kilikea Lopez 0 670 610 1280 5
Barbara Ludgate 670 0 500 1170 6
Sage Perez 0 610 555 1165 7
Anela Montemayor 0 0 670 670 8
Kahanu Kaahanui 0 0 610 610 9