Kawela Stream Flows Again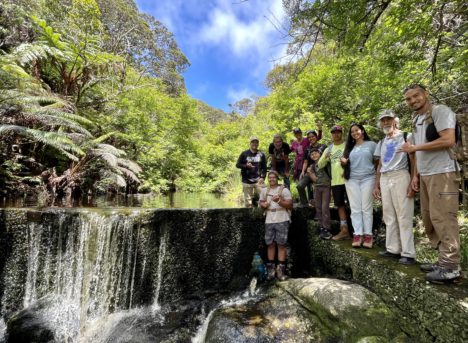 Earthjustice News Release
On Tuesday, May 11, full flow was restored to Kawela Stream, which has been diverted to West Molokai for over a century.
The movement to restore Kawela began officially in 2019, when community group Molokai No Ka Heke filed a formal request for stream restoration with the State Water Commission. This year, Molokai No Ka Heke and youth advocates from 'Aina Momona conducted public outreach and appeared before the Water Commission three months in a row, in February, March, and finally in April, when the Commission agreed to the community's request to pursue 100 percent restoration of Kawela Stream.
Last Tuesday, members of Molokai No Ka Heke and 'Aina Momona staff joined Water Commission staff at the East Kawela dam, high up in the Kamakou Forest Reserve, to witness and celebrate the restoration of flow.
"Watching the water flow past the dam for the first time was a sight to behold after only ever seeing the stream dry during my previous visits," said Leihiwahiwa Ritte of Ho'olehua. "It gives us hope to know that our voices were heard, and that the Commission did what was right for the 'aina."
Molokai Properties Ltd., which owns the stream diversions, has until October to conduct an audit of its water systems and analyze its various alternative sources of non-potable water. Because the mountain water system diverts water from multiple streams and historically has diverted far more water than is needed, the restoration of Kawela will not affect non-potable water uses in West Molokai.