Kaunakakai Flood Plan Deemed Substandard
Flood insurance to be mandatory for some.
Twenty years after Molokai's first flood maps were released, Maui County and federal agencies have presented a major overhaul of flood zones on Molokai. These changes have caused concern for some residents of Kaunakakai who may now be required to purchase flood insurance.
Molokai's updated flood areas are a part of a nation-wide study on the effects of hurricanes. Spearheaded by the Federal Emergency Management Agency (FEMA), the study began in 2003.
Still, FEMA found that Molokai's flood zone maps had not been updated since they were created in 1981, and in particular found that the levee running along the western side of Kaunakakai was not certified to FEMA standards. Until the levee is certified by an engineering team, Kaunakakai residents and business owners now face the requirements of being in a flood plain.
Some homeowners seem surprised at the recent change.
"I think this house has been here since the [1920s]," said Paul Fischer, a resident on Manako Lane, which is in the new flood zone. "It never got flooded before. If it did, it's still here."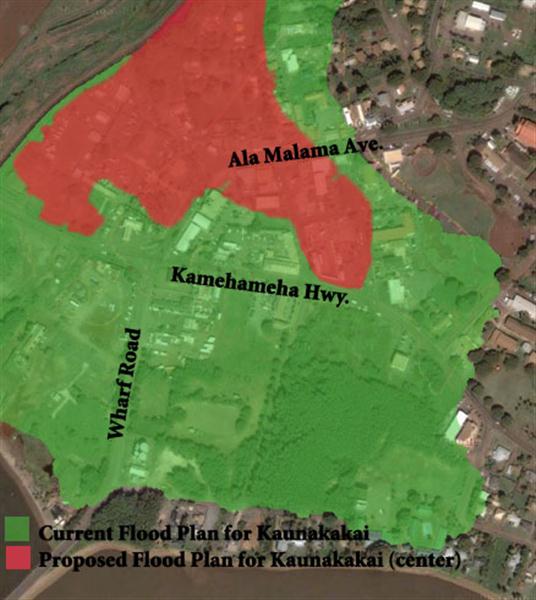 ," he said. "Nobody's ever looked at it."
Fischer said he was upset at this new requirement, especially considering he is not worried about his house flooding.
"I'm not paying $400 or $1,500. I can't afford that," he said. "I'm on a limited income. Maybe my landlord will pay but I can't pay that."

Kaunakakai Levee
Gayagas of the Corps levee is inspected annually, and that it is in "good condition, maintenance-wise." Made of dirt and stone, Gayagas said its construction is to protect against seasonal weather and storms. He said the county gathered data to self-certify two years ago, but is in talks to hire the Corps to certify the levee. Cerizo said they are still looking for funding to hire the Corps, and the whole process will take up to three years.
If the levee is certified under FEMA standards, Kaunakakai will revert back to its protected zone, and property owners will no longer need flood insurance.
Cerizo said there is an appeal process – a chance to request that FEMA do a closer study. He said a resident can submit their comments, preferably two copies for his office and for FEMA, by April 19.
The prelimnary maps can be found at gis.hawaiinfip.org/fhat; a tutorial on how to read the maps can be found at hawaiinfip.org. Contact Cerizo or Carolyn Cortez at 808-270-7253 for more information.