Kanoe Davis is New Cultural Health Navigator
MCHC News Release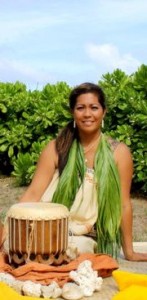 Molokai Community Health Center (MCHC) is excited to announce a new patient resource. A Cultural Health Navigator Manager position has been added to the staff line-up at the MCHC. The position is filled by Molokai's own Kanoe Davis.
"Among other things, I help link patients to alternative and traditional options of healing and treatment," explained Davis, "while respecting the patient's choice to choose what works best for them."
Davis is assigned to assist patients in understanding what their healthcare options are. Whether it's seeing a medical doctor or dentist, to receiving acupuncture or massage therapy, it's her job to help patients navigate existing resources in a way that feels culturally correct and inviting.
For Davis, her new role is pretty close to who she is. Raised by her grandparents, Nani and Francis Wong of Kamililoa, Kanoe's childhood was steeped in culture and practice. "I grew up embracing hula and living martial arts and learning the cultural significance of these practices," said Davis. "It was a part of everyday life."
Desiree Puhi, MCHC executive director, said the idea for this position came from community input. "People wanted to see a friendlier healthcare experience, one that acknowledges culture as a part of healing," Puhi said. "There's also been a desire to see more options outside of traditional Western medicine."
In an effort to identify alternative healing practitioners, Davis is looking to the community for hidden resources. From practitioners of la`au lapa`au to qi kung, Davis is hoping to make connections as well as uphold the value of each resource.
Helping patients navigate healthcare options is just one of Davis' responsibilities. Her position also involves scheduling regular follow-ups for patients and helping to maintain clear communication between patients and providers.
"I'm here to help enhance people's healthcare experience by ensuring that they are aware of their options and feel comfortable and informed at every step of the way," adds Davis.
MCHC invites you to come and meet with Davis to see what your options are. Or, if you are a healing practitioner interested in teaming up with the MCHC, you can contact Davis at 553-5038.