Kane Discuss Empowerment
2011 `Aha Kane brings local men together
As Native Hawaiians progress into the 21st century, their way of life is being tested daily. Recently, a group of men on Molokai gathered together to evaluate their role in life, as well as the island. They also brainstormed ways to preserve Hawaiian culture and values for generations to come.
This year's `Aha Kane conference fostered the question, "Who Are You?" as a follow up to the 2007 `Aha Kane conference.
"When we converse, we get a feeling of what's going on," said Moke Kim, MC for the 2011 `Aha Kane Conference. "The more we talk, the closer we become, and thus, the more responsible we become for one another."
Over 30 Molokai men, from keiki to kupuna, attended the event last Friday at Kulana `Oiwi halau to put their heads together in discussion and participate in presentations about all aspects of the role of kane on Molokai today.

The "Molokaiian" Within
One of the speakers, Ka`eo Kawa`a, a retired Hawaiian immersion teacher, invited men to his kukakuka session to get the best ideas on how to carry on the legacies of Molokai.
"In Hawaiian thoughts, we don't talk with our mothers, we don't talk with our heart – it actually comes from much deeper than that," Kawa`a said.
He asked his audience to ask themselves, what is "Molokaiian?" How do we keep the traditions of Molokai? What are the issues on Molokai and what are the solutions?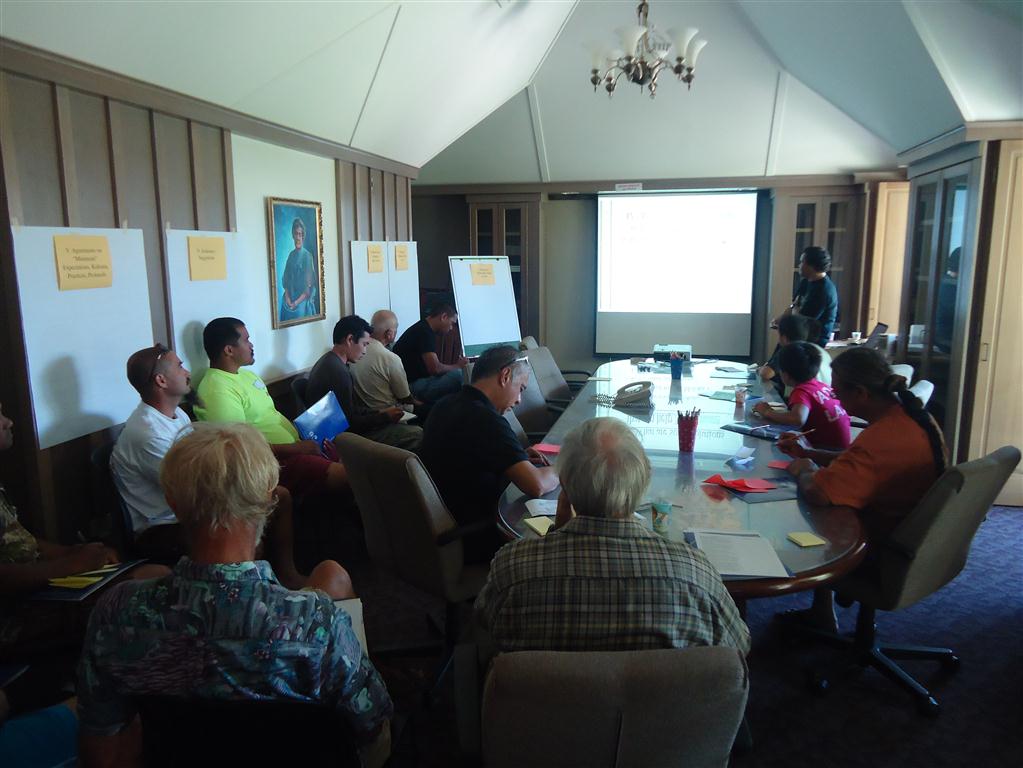 "Just think how fortunate you are to live on Molokai, "Hoe said about Molokai's great ability to grow food.
The `Aha Kane committee will continue looking for ways to perpetuate Hawaiian values and culture. Their next meeting will be held at the Molokai Community Health Center office, behind the Store House. Kane are asked to gather there on April 6 at 6 p.m. to discuss ways to build traditional hale. Organizers plan to build a hale next to the new Oceanside Medical Center.